With a turbulent couple of weeks on global financial markets, credit around the world freezing up and with the RPdata Rismark Hedonic Index for August 2008 (prior to recent carnage) showing a fall in house prices in every Australian state (missing data for Tassy), I'm willing to endure egg on my face and call the top of the "Great Australian House Asset Bubble".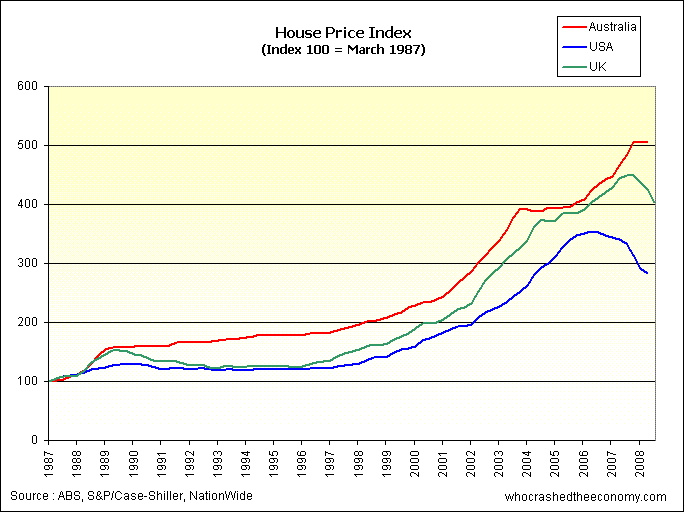 Recent data has shown UK house prices are down 12.4% in the year to September (Hallifax), having the steepest falls not seen in 25 years.
The US S&P/Case-Shiller home-price index has dropped 16.3 percent in the year to July, the fastest on record.
Above is a chart of earnings and house price data for June and May 2008 (Most recent data). Assuming tipping point of the Australian housing market has just past us, predict the bottom of the market and why?
Historic data suggests houses normally average about about three times wages. Current ABS ordinary full time earnings for Sydney Adults is $59,456 pa. At three times wages, this makes the medium Sydney houses valued as low as $178,370, a 67.1% fall on the current Australian Properties Monitors (APM) Composition Adjusted house price.
Some believe social trends have changed. Households now consist of two wage earners, unlike that of the past. Does this mean prices won't ever reset back to three times, but rather something more like six times taking into account the extra earning capacity? Or with an unsustainable credit binge fueling demand for goods and services, will there be enough jobs around to support the dual income household?
The International Monetary Fund believes Australian House Prices have become over-valued by 20 per cent.
Steve Keen, an economist at the University of Western Sydney says "Overall I expect about a 40% fall, and that is basically in some ways being more conservative that I think is possible."
Hugh Pavletich, co-author of the Demographia International Housing Affordability Survey says the Sydney multiple is now about nine (ie. average Sydney house prices are nine times average annual household income). This is just about the highest multiple in the world. Other countries with high multiples have seen drops in house prices recently. Pavletich agrees with Keen's figure of 40 per cent, saying, "I think what we've really got to look at is California to get some indication of what's likely to happen in Australia but at a slightly slower pace, I would imagine. California got up to the same sort of multiples that Australia is sitting at now, which is quite unsustainable. … I would expect [the drop in prices] to play out over probably a two to three-year period.", "California has really led the way with at least a 40% drop in the past 12 months,"
Will Sydney follow in the footsteps of California?