As expected by the majority of economists, home loan approvals continued to fall in April making it the seventh straight monthly decline. April recorded a 2.8 percent fall for owner-occupied finance commitments. The last time we saw numbers this weak was in March 2001.
We normally publish our own charts like the one last month, Mortgage approvals plunge to nine year lows showing a link between mortgage approvals (demand) and house prices. However the Sydney Morning Herald has done a wonderful job today with this graph :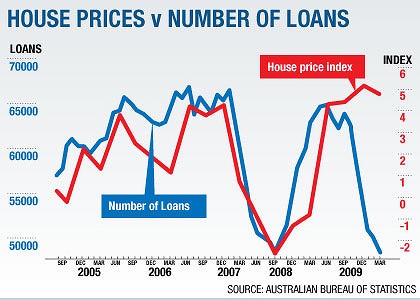 As you can see, there is a close correlation between mortgage approvals and house prices. As the majority of people require housing loans to be able to purchase a home, when mortgage approvals fall, the soft demand results in house prices cooling.
However, this time it appears to be different. When the housing market started to show signs of weakness, Wayne Swan opened up our property market to foreign buyers. It was those foreign buyers, using cash or loans from their home countries that propped up our house prices, causing a large divergence between mortgage approvals and house prices. Some agents were reporting as many as 30% of purchases were to foreign buyers, which as you can see, helps counteract a fall in house prices from the shortfall of mortgage approvals.
In late April and under immense pressure from the public, the government reversed their decision on streamlining foreign property purchases, effectively turning off the tap overnight. Housing statistics take a while to come through the pipeline, and potentially we could be in for quite a shock soon. Already we are witnessing rapidly falling clearance rates.
» 5609.0 – Housing Finance, Australia, Apr 2010 – The Australian Bureau of Statistics, 9th June 2010.