As Australia progressed through the stages of the housing bubble, all range of excuses were invented to support the unsustainable credit binge on property. We were told if we look back over 100 years, houses double every 7 years. Then there was a shortage of houses, high immigration and the fact that Australia is different – What happens in the rest of the world, can't possibly happen here in Australia.
Now as mortgage approvals plunge and auction clearance rates fall like dominoes, attitudes are starting to change. Focus has moved from the fact that property only every goes up, to that it can't crash – at worst it will plateau. We have entered the denial phase of the bubble clock. The objective of speculator's cheer leaders is to limit the damage.
According to Smart Company, President of the Real Estate Institute of Australia, David Airey said that there has never been a major price collapse in residential property history, and even though the market may cool he is confident the market will sustain at least a flat growth rate through the rest of the year.
Looking back at history and at Australian house prices in real terms (corrected for inflation), we can see the more recent boom and busts of the 1970 and 1980's. In real terms, house prices fell 9% between 1989 and 1992. The 70's boom saw prices correct by 17% between 1974 and 1979. A 27% fall was the result of a bubble in 1950.
But the most interesting speculative bubble occurred in Australian in the late 1880's. According to the data above prices fell 32% from 1891 to 1898.
In 1880 there was a speculative land boom in Melbourne fuelled by wealth that had been created during earlier gold rushes. There was strong population growth, with the population of Greater Melbourne rising by more than 70 per cent over 10 years from 1881. The land speculation engulfed most members of society and was helped by large increases in lending. The Federal Bank was founded in 1882 by James Munro and the funds used to speculate on suburban real estate.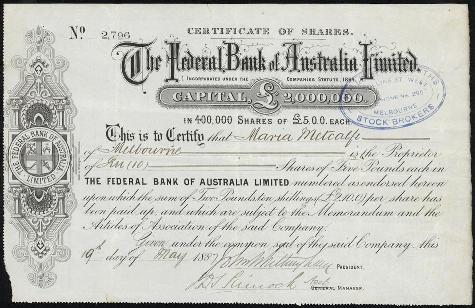 A certificate of shares in the Federal Bank of Australia, Ltd. Issued in Victoria in 1887. Source : Museum Victoria
The crash began in 1891 with land prices falling to around half of their perceived value at the peak of the boom. For example, average property prices peaked at around £950 in Brighton in 1888 and then fell to around £400 in 1893 and £300 in 1898. Property in Collins Street which was selling for £2000 a foot at the top of the bubble had an asking price of £600 and still was unable to attract buyers.
While the trigger is not 100% clear, its believed the crash started when banks started restricting their lending for land at the end of 1887. Another observation was the large amounts of land brought onto the market resulted in poor rental yields. Coupled with high levels of leverage, more and more speculators experienced cash flow issues. (I guess they didn't have negative gearing then!)
Mortgage defaults and bank runs started a period in history known as the Australian Banking Crisis. The peak of the crisis was signalled by the Federal Bank failing on the 30th January 1893. Five months later, 11 commercial banks had suspended trading.
But while history is all well and good, what comes apparent when looking at historical data is that we have never had a speculative property bubble this big. It's probably short sighted to say it can't happen based on history. I'm sure if someone predicted 10 years ago that property prices would hit these current levels in 2010, someone would have said – it can't happen, cause it's never happened before!
» Backlog of property listings will put pressure on price growth, experts say – Smart Company, Tuesday 13th July 2010.
» Australian banking crisis of 1893 – Wikipedia.
» Three Australian Asset-price Bubbles – John Simon.