In a report released by Access Economics today, it expects retail sales to grow by only 1.3 percent this financial year, sounding the worst period for retail spending in two decades. But, on a positive note, it expects a rebound next year.
David Rumbensm, a partner with Deloitte Access Economics said "People are more cautious and saving more."
ABS data shows household savings have rapidly sprung back to levels not seen in 25 years after a decade when the household consumption fired along on the expansion of credit. The unsustainable surge in house prices and the wealth effect helped the retail sector along nicely. But pushed under the carpet is the white elephant in Australian lounge rooms – excessive debt levels, gradually accumulated over the last two decades. 90 percent of that debt belongs to residential housing.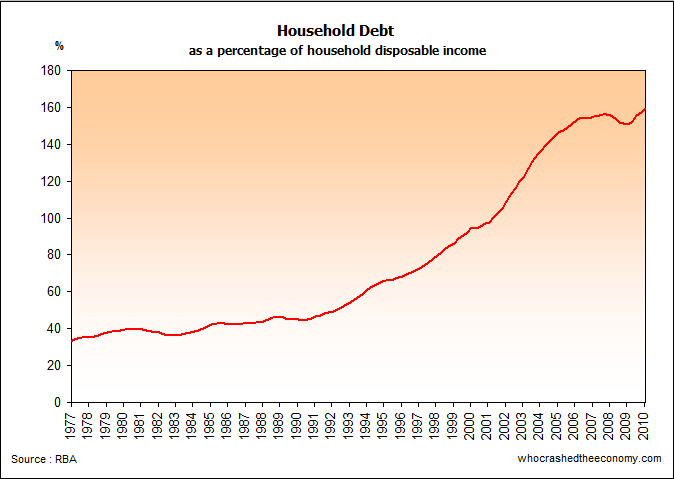 While current interest rates are some of the lowest in decades,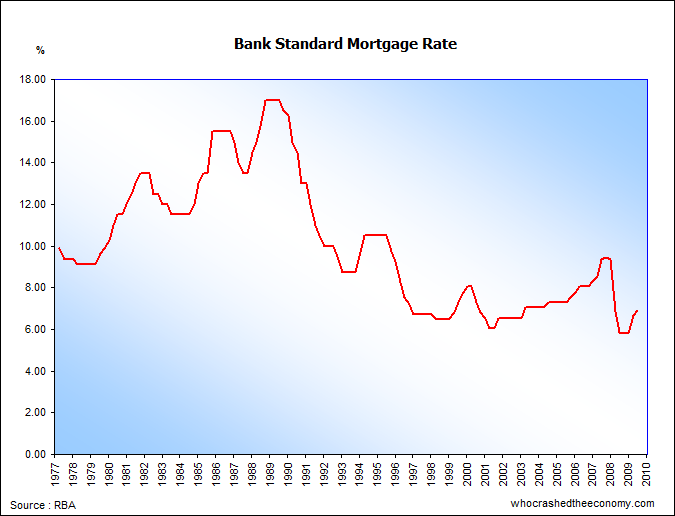 Our extremely high debt levels have seen mortgage payments blow out to record levels. While the Boomer's remember the 17 percent interest rates of the late 1980s, just prior to the GFC the aggregate Australian household was spending double the amount on mortgage interest payments than when rates were 17 percent. And they thought they had it tough.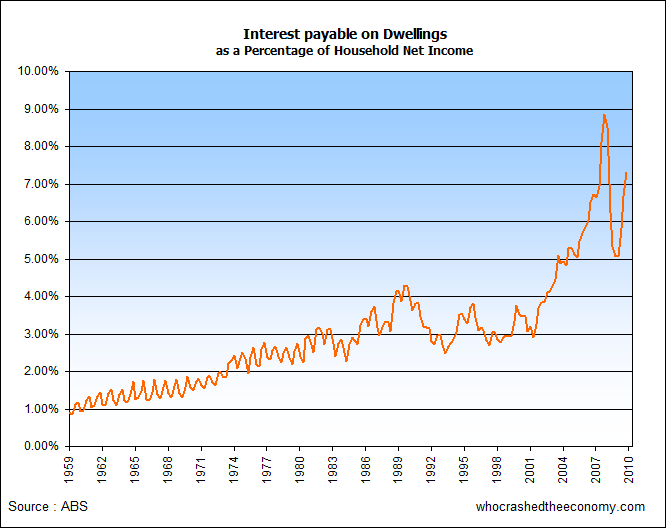 David Rumbens says "In part, it's the lift in interest rates that we saw last year that has both cut into incomes and cut confidence." He believes we can expect another rate rise in the coming months. With the level of debt we have today, a 25 basis point rise in official interest rates has a greater effect than in the 1990s. For this reason, some believe the RBA is resorting to warning of impending rate rises to help cool household's addiction to debt, rather than inflict the pain of actually carrying through with it.
Only today, credit ratings agency Fitch was forced to revise its estimates of pending mortgage defaults up as their model used data on loan performance between 1980 and 2000 when debt levels were much lower. "These figures show a substantial shift in the indebtedness of Australian borrowers, who are now significantly more sensitive to moves in interest rates than they were 20 years ago," Fitch said. "For this reason, Fitch believes any downturn could be significantly worse than the recession of 1991, on which the current mortgage default criteria is based."
While this excessive household debt level, worldwide, was the cause of the GFC, our government decided in its wisdom to prop up our unsustainable economy. Of course, proping up an unsustainable economy means when the stimulus is removed, the economy once again collapses as the root of the problem is not addressed. In fact, as you can see in the graph of household debt above, Australian's started reducing their reliance on debt after the GFC, only for the government to provide free money to help encourage more accumulation of it via a period of fast house price growth.
With the effects of the stimulus running out, Australian's are now once again saving like never before in a bid to keep their heads above water and pay down the crippling debt levels. House prices are falling, and the negative wealth effect means consumer confidence is falling.
"In part, it's house prices having peaked and now starting to turn down has also cut confidence and willingness to spend." said David Rumbens.
Deloitte Access Economics predicts that household savings will start to level out, and that a jobs and wage growth will help fuel a rebound in consumer confidence and retail sales next financial year.
Have your say. Is this possible?
» First home buyer defaults more likely: Fitch – The Age, 8th June 2011.
» Australia Retail Sales to Increase From Two-Decade Low, Access Report Says – Bloomberg, 7th June 2011.
» Retail sales 'to bounce back next year' – The ABC, 8th June 2011.
» Retail sales expected to pick up after horror year: Access Economics – Smart Company, 8th June 2011.
» Christmas retail figures shaping up to be the worst since the early 90′s – Who Crashed the Economy, 23rd December 2010.
» Time to pick and choose: Housing or Jobs – Who Crashed the Economy, 21st March 2009.