It wasn't that long ago the property lobby was screaming of a shortage of houses. In the last six months we have seen a surge of houses listed for sale, and it now appears these are overflowing onto the rental market forcing landlords to drop rents. Owners, unable to sell homes for the price they demand, are pulling their properties off the market as we come into the slower Winter sales period and placing them on the rental market. This has resulted in many rentals properties sitting vacant.
Stats from RPData posted on the Macro Business Blog show there are 22.8 percent more properties advertised for rent than a year ago. In the Northern Territory, the figure is closer to 77 percent, and in South Australia, 40 percent.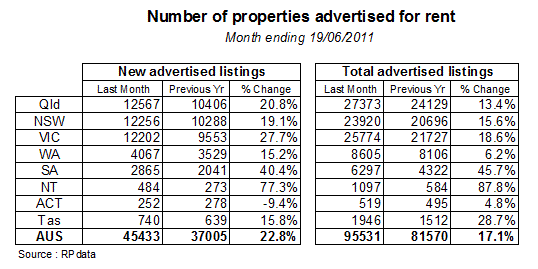 The recent surge of available rentals may also be attributable to consolidation among renters. At a stage during the housing bubble, rents were rising faster than inflation, and with other rising costs (energy, food etc) renters may be forced to move back home, or move in with friends as landlords price their properties out of reach.
The Burb Watch Project (http://www.burbwatch.com.au) also show a steadily rising number of rentals advertised and rent reductions around the country.