In our last post, we reported on Harry Dent arriving in Australia to promote his new book. On Wednesday morning, Mr Dent appeared on Channel 7's Sunrise telling David Koch his belief that Australian housing is likely to fall as much as 50 percent as the world is hit by a new economic tsunami of a larger magnitude than the first GFC. He stresses if you are a young couple, due to be married, do not buy a house now. If you are older, do not buy a vacation home or retirement home now, wait. But if your children are leaving the nest and you want to downsize, Dent says downsize now to reduce your exposure to real estate.
To watch the segment, click here.
This is not the first time, bearish reports on housing has aired on Sunrise. David Koch questioned if Australian's were being told the truth about housing earlier this year.
Today, the experts were on Sunrise to counter Dent's argument. First up was Craig James who said "Well It may be correct in the terms of the United States, it may be correct in terms of some of the other economies, but they are forgetting the fact that Australia has population growth. We have population that is rising. They are forgetting though, the fact that we haven't got large tracts of land which are empty, huge apartment blocks, or homes that are empty, so we don't have a housing oversupply – it's always about demand and supply."
Craig James clearly believes population growth, a shortage of land and "demand" can cause perpetual growth in house prices and overlooks the possibility that at some stage, people simply can't afford to purchase property causing the Ponzi scheme to collapse.
Next up was Mark Boris of Yellow Brick Road. He says over the next 6 to 9 months it's probably a great time to buy. "What is probably making house prices a little tough at the moment is it's an expensive interest rate environment." – Sure is Mark, just have a look below how expensive interest rates are compared to the last 30 years.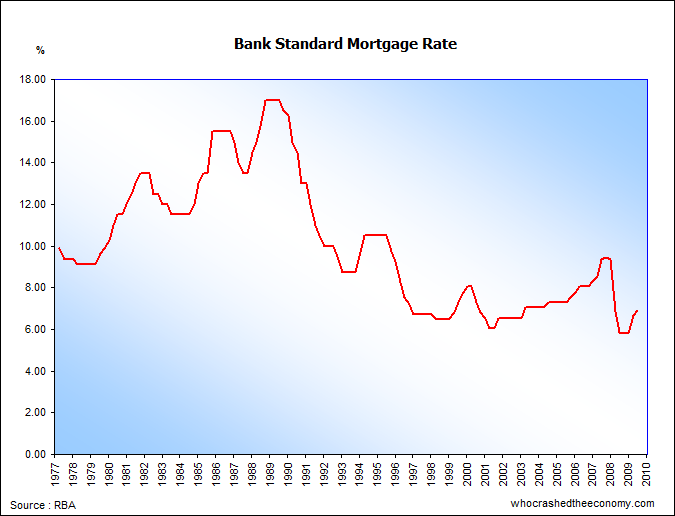 Maybe it is not expensive interest rates, but rather the mountain of debt we now have which causes interest payments to be sky high.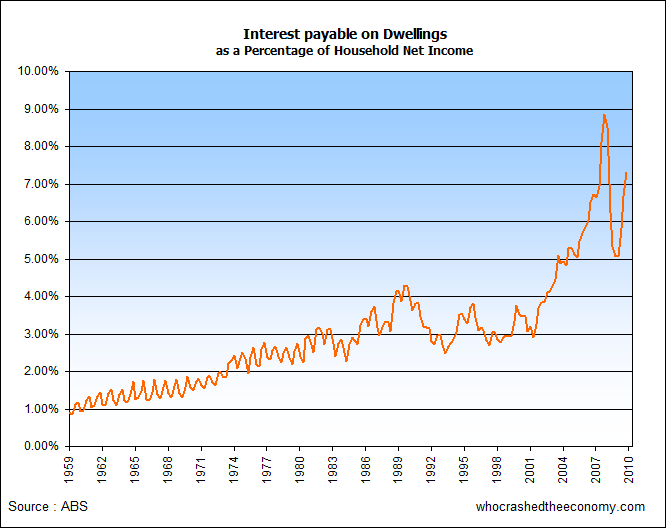 To watch today's counter argument, click here.
But while the experts debate the housing bubble, the Australian Bureau of Statistics (ABS) yesterday released Dwelling Unit Commencements for June showing new homes construction is down 18.6 percent seasonally adjusted for the year.
In NSW, housing starts plunged 20.1 percent in the three months to June causing the Urban Taskforce's chief executive, Aaron Gadiel to call for an emergency housing supply plan, urging the government to do something – anything!
"That's a massive drop," Mr Gadiel said "It's NSW's biggest single quarterly fall in five years."
According the the Urban Taskforce press release "The Urban Taskforce is a property development industry group, representing Australia's most prominent property developers and equity financiers"
Despite all the hype, starts in the Northern Territory fell 69.3 percent over three month period!
The Sydney Morning Herald reported on nabCapital chief economist Rob Henderson who said the numbers were "a surprise" and "worse than expected."
The paper wrote "Typically a shortage of house[s] while people were looking to buy them in an expanding economy would lead to price rises. But Mr Henderson said houses have become so expensive many would-be buyers can't afford them."
Spot on Mr Henderson!. Someone is on the ball.
» Economic tsunami warning – Sunrise, 14th September 2011.
» Predictions house prices will halve – Sunrise, 15th September 2011.
» NSW housing in big trouble, 20 per cent decline, emergency plan vital – The Urban Taskforce, 14th September 2011.
» More gloom as home starts fall – The Sydney Morning Herald, 14th September 2011.