There is growing concerns Australia's miracle economy might not be in as good shape as our politicians would lead us to believe. This view was reinforced today when the Reserve Bank of Australia was forced to cut official interest rates to help stave off what could emerge as the second stage of the GFC. Treasurer Wayne Swan said today, "these cuts have been made responsible by our responsible budget policy. Today, at 3.25 per cent, the official cash rate is lower than it was at any time under the last Liberal government."
The central bank slashed another 25 basis points from the cash rate today, adjusting the leaver down one notch to 3.25 per cent. It is just 25 basis points off the low recorded during the Global Financial Crisis (stage I).
The statement on today's monetary policy decision shows the central bank is concerned about the outlook of the world economy, especially growth in China. It notes commodity prices remain significantly lower.
Back home, it notes "investment in dwellings has remained subdued" and makes an assessment that the labour market has "softened somewhat" in recent months.
Last Friday the RBA released its August update of its financial aggregates painting another bleak picture for housing. Growth in housing finance continues to fall and sits at "subdued" levels not seen since records started 35 years ago. Hardly the foundation required for a recovery.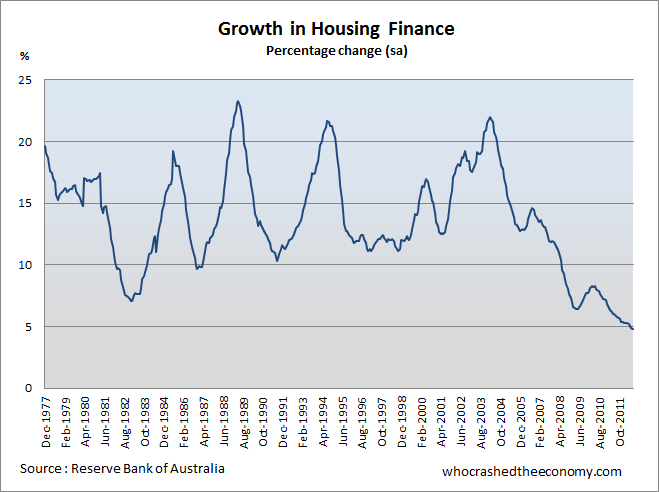 Last week, reports surfaced showing new home building is at levels not seen in 15 years.
Analysis by Leith van Onselen @ Macrobusiness shows a "softened" labour market. In non-seasonally adjusted terms, the labour market contracted at record levels (dating back to 1985) in the August quarter, losing 135,500 positions. No prizes for guessing construction lead the job losses in raw number terms, followed by agriculture and public service positions.
While mortgage rates may be approaching record lows, aggregate data shows households are still paying more in interest payments as a percentage of household disposable income, than in 1989 when rates approached the 17 per cent mark. How is that, you ask?
While households are making some inroads into deleveraging their balance sheets, it is very hard to see any recovery while household debt levels remain excessively elevated and the risks of broad based job losses increase.
» Global economy prompts Australian interest rate cut – The 7:30 report (ABC), 2nd October 2012.
» Australia's record quarterly job losses – Macrobusiness, 18th September 2012.