One of the take home messages from yesterday's 25 basis point drop is the Reserve Bank's worry unemployment is starting to rise.
On Monday, Roy Morgan research released the results of its latest unemployment and under-employed survey, showing unemployment in Australia is now at 10 per cent, and quite a bit higher than experienced during the GFC.
Further to the 10 per cent unemployed, an extra 7.4 per cent of the workforce is considered under-employed and looking for additional work.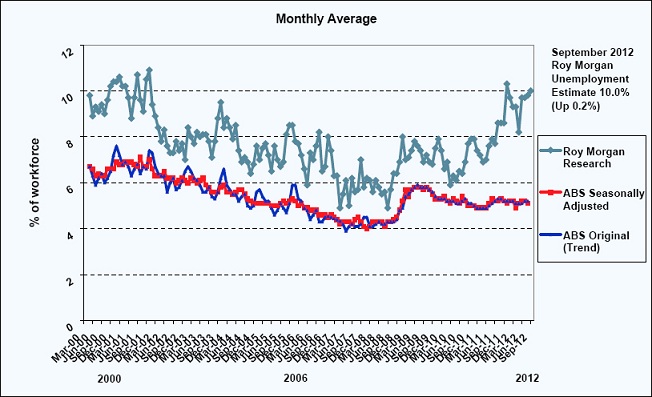 Roy Morgan's results are now almost double the official ABS unemployment rate. Historically, both have tracked each other, but in the last year these indexes have started to deviate apart. The reason is the methodology used to calculate the resulting figure.
As we highlighted yesterday, analysis by Leith van Onselen @ Macrobusiness shows in non-seasonally adjusted terms, Australia shedded jobs at a record pace in the August quarter. Employment contracted 135,500.
Provided the participation rate also falls, unemployment stays steady. Baby boomers facing redundancy, may choose to start retirement early. Other individuals with redundancy payments may take a break, before re-entering the workforce.
Roy Morgan Research CEO Michele Levine told News, "If middle class people are given redundancy payments they often feel with that 'I'll take a break before I look for my next job, Those people won't hit the government statistics until they seriously come back and start applying for jobs and they're not doing anything but that."
To be classed as unemployed by the ABS, you must have been actively looking for work in the last month. Furthermore, you can't have worked during the month causing a lag for newly unemployed people.
Roy Morgan takes a more simplistic view, counting anyone that is unemployed regardless of if they have been actively looking for work since becoming redundant.
The steep rise in Roy Morgan's unemployment statistics over the last two years could begin to ring alarm bells. According to Michele Levine, official ABS figures at 5.1 per cent "doesn't seem to reflect reality" and could help explain why the RBA is concerned.
» Unemployment hits 10% again in September – Roy Morgan, 1st October 2012.
» Brace for a white-collar recession, experts warn – Herald Sun, 2nd October 2012.