The International Monetary Fund (IMF) has highlighted concerns about the concentration and interconnectedness of Australia's big four banks in the most recent Financial System Stability Assessment on Australia. It reports Australia's four major banks, The ANZ, Commonwealth, Westpac and NAB hold 80 per cent of the countries banking assets and 88 per cent of residential mortgages. Such dominance in the market, each with similar business models and reliance on overseas funding leaves the majority of Australia's banking sector exposed to common shocks.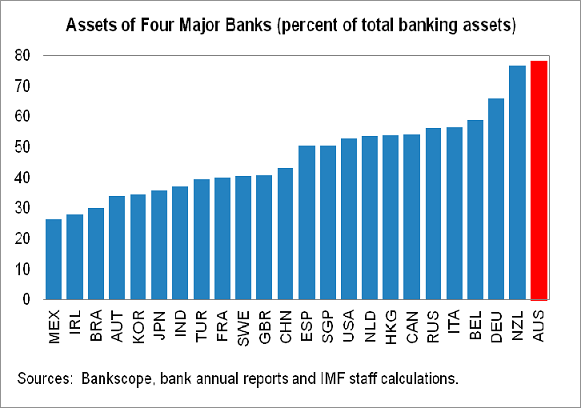 The IMF wrote "While their [The big four banks] pricing power and greater risk diversification help sustain profitability, their size implies that, in the event of a failure, the impact on the financial system and the economy would be potentially substantial."
"Given their systemic importance, special risk mitigation arrangements, including more intensive supervision, higher loss absorbency, and robust recovery and resolution plans, will help prevent the failure of major banks and, should one occur, limit its impact and fiscal costs."
The IMF also notes "The combination of high household debt and elevated house prices is a risk to banks' large mortgage portfolio." It says 90 per cent of Australia's household debt is in housing loans and Australia's household debt is above the average of other advanced economies in the G20.
"Strong house price gains over much of the past two decades have made Australia's house prices relatively expensive now. This combination exposes banks to negative income shocks generated by a sharp increase in unemployment. Moreover, around 30 per cent of new mortgages are interest-only, a potentially riskier type of lending than regular mortgages, and 55 per cent of those mortgages are interest-only investor loans."
» Australia: Financial System Stability Assessment – International Monetary Fund, November 2012.
» Banks 'need more capital' – The Australian Financial Review, 16th November 2012.