ABC News 24 interviewed Dr Nigel Stapledon on the Australian Housing Market on Friday. The interview upload is courtesy of Macrobusiness.
Dr Nigel Stapledon remarks, "Well Australia has been pretty lucky on the housing front in recent years. In the US we saw a major correction downwards in house prices, Australia missed out that, and a lot of it's to do with the resources boom."
"So if you go back in the early 2000's house prices in Australia were probably, at least as over valued than they were in the U.S., where the correction in the U.S. happened by a sharp correction in prices, here it has actually happened by a significant up trend in rents, so that has corrected the sort of misalignment in the house price, and that significant rise in rents very much aligns with the resources boom."
"And as we know the Treasurer is having trouble balancing the books because with the resources boom coming off, revenues are getting a bit tighter and the same things are going to start to happen to household incomes and hence also a slowing also in rental growth."
We will let you decide if there has been a "significant up trend in rents" and if this will save us? But most of what Dr Stapledon says is good information and the video is worth a watch. He uses the word 'lucky' to describe our situation, dismisses the notion that inflation will reduce the value of your debt, and warns against borrowing to the hilt and with the idea that house prices will double every 7 to 10 years.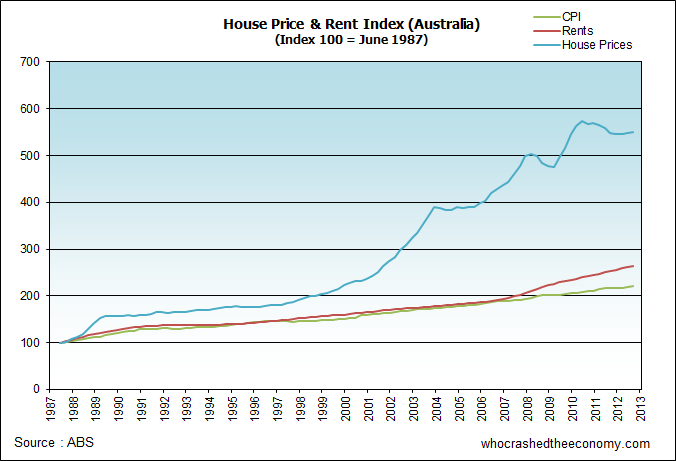 » How mining saved housing – Macrobusiness, 29th April 2013.