Thursday morning I almost burn a hole in my shirt. I was ironing my daily attire when Steve Mickenbecker from Canstar joined Kochie on Sunrise to talk about if it is cheaper to rent than buy.
Kochie introduced the segment with the following slide showing the stats over the past decade:
While average wage growth (probably distorted by mining) increased a little more than inflation over the last ten years, average mortgage repayments have surged, up 105 per cent. Kochie explained the mortgage is taking a larger chunk of your income now despite lower interest rates.
The following graph shows house asset prices have outstripped both CPI and rents over the last decade: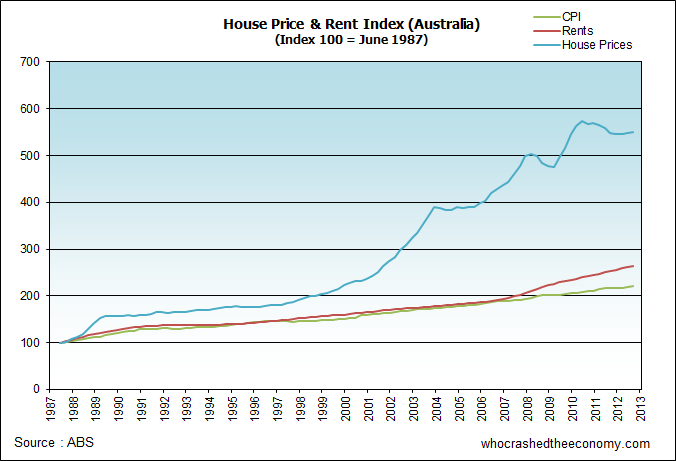 This has led to a significant rise in household debt as a percentage of household disposable income: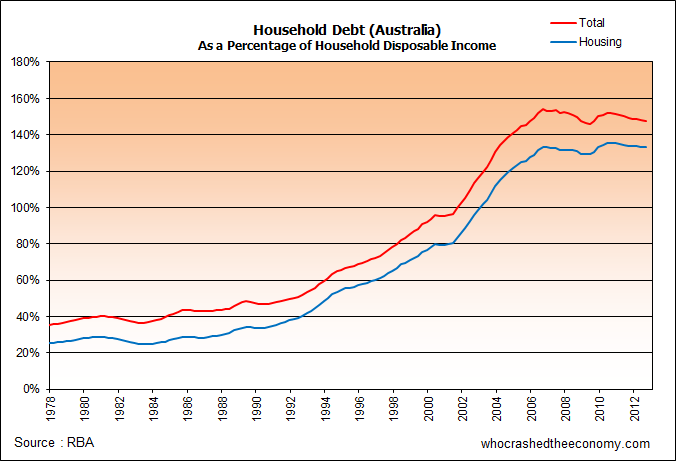 And while interest rates might be at close to record lows, mortgage repayments are a product of both interest rates and the amount you choose to borrow. Interest rates are low, but debt is astronomical. This results in substantial interest payments as a percentage of household disposable income. From this graph, you can see households today pay a greater portion of income to mortgage interest repayments than in 1989 when interest rates were over 17%.
Apparently Steve Mickenbecker has been crunching the numbers. Kochie asked "Were you a bit shocked by the mortgage increases?"
Steve Mickenbecker responded, "People talk about affordability in quite short term measures, they say well affordability is improving over the past couple of years. When you look at it over 10 years, you really see the impact. And doubling of repayments for people entering the market is a massive hike up when salaries have only gone up half that amount. So new home buyers are really paying a lot."
At this stage my arm was frozen, iron caught on my shirt pocket, my eyes glued to the set. We have someone that knows what they are talking about on main stream television. I was truly stunned.
Steve Mickenbecker continued, "Well shock, should not have been, because property doubles every 10 years or so."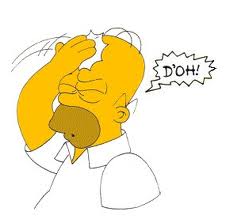 D'oh! We were so close.
Hopefully for some clued up viewers, they were concentrating more than I was on my ironing and questioned how house asset prices/interest payments rising faster than wages are sustainable in the long term? If prices double every 10 years, but someone's ability to make the repayments don't, what gives? We may have dual income households today, but what does the future lie? In twenty years, will two couples (four breadwinners) occupy a house together? In fifty years, four couples (eight breadwinners) in a three bedroom house? Maybe the dog and cat will have to get a job to help service the mortgage?
If you scroll up to the top graph, did house prices double in the 10 years prior to last decade? Maybe, just maybe, house prices don't actually double every ten years. Maybe the last ten years were an anomaly, or bubble if you like? Maybe Mickenbecker, like the average real estate spruiker, only looks at prices in "quite short term measures," say under 10 years?
Economist and Yale Professor Robert Shiller created a real home price index for the United States (blue line on the graph below) going back over 120 years. Real means the house asset prices have been corrected for inflation. What you can observe is house prices have not increased much more than inflation over the 110 years – i.e. in the late 1990's the index was barely over 100 where it started. However, quite visible is the very distinguishable "Subprime" housing bubble that in essence triggered the Global Financial Crisis. You will also note, house prices in the United States are almost back to long term trends (index of 100).
Ex Westpac Chief Economist and Academic at the University of New South Wales, Nigel Stapledon has done the same for Australia, going back 130 years to 1880. While there is a slight upwards trend postdating rent controls during world war II, there is a very distinguishable and sharp rise in house asset prices after 2000.
Answering the age old question of if it is better to rent or buy, Mickenbecker said ".. Rent is cheaper, buying costs you more in current terms – however you don't get the pleasures of home ownership, the stability of home ownership. And probably most importantly, participate in capital gains. And if properties double every 10 years, and you are renting, you are funding that, for your landlord."
You can watch the interview here.
On a side note, We are ramping up our facebook page. Please like us and share among your friends.
» Renting vs buying – Sunrise, 11th April 2013.