Roy Morgan unemployment figures released yesterday show an estimated 1.561 million Australians are now unemployed. This represents 12.3 per cent of the workforce and is now the highest figure since February 1994, some 20 years ago. An additional 1.08 million Australians are classified as underemployed, working part time while looking for more work.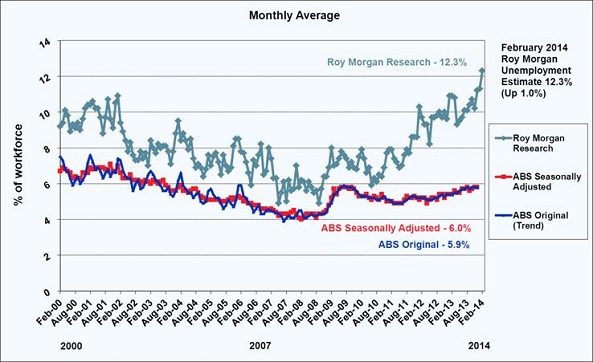 Australia's deteriorating jobs market was cited by the Reserve Bank of Australia (RBA) as one reason the bank left the official cash rate at an emergency 2.5 per cent yesterday.
"The demand for labour has remained weak and, as a result, the rate of unemployment has continued to edge higher. Growth in wages has declined noticeably," the RBA media release noted after the Banks' monthly meeting. "Looking ahead, the Bank expects unemployment to rise further before it peaks."
Rising unemployment is expected to put pressure on Australia's housing bubble, but the market exhibited little stress in the December 2013 quarter according to analysis by ratings agency Fitch. A study of Australian Residential Mortgage Backed Securities (RMBS) show the rate of arrears for the December 2013 quarter was 1.21 per cent, the lowest figure since 2009 according to Fitch.
But Fitch warns lenders not to be complacent and drop lending standards warning "Higher levels of unemployment, a slowdown in the housing market, and rising interest rates, could lead to servicing pressure, and in turn, higher delinquencies."
» Roy Morgan Unemployment jumps in February (up 1% to 12.3%) – highest for 20 years since February 1994 (also 12.3%). Unemployment amongst 18-24yr olds rises to 28.0% (up 6.8%) – Roy Morgan, 5th March 2014.
» Statement by Glenn Stevens, Governor: Monetary Policy Decision – Reserve Bank of Australia, 4th March 2014.
» Mortgage arrears at lowest December level in four years – The ABC, 5th March 2014.
» Roy Morgan unemployment hits 11.3% – highest in 19 years – Who Crashed the Economy, 4th February 2014.