It's the age old question that's bound to attract heated debate from those with vested interests. Is it cheaper to rent or buy?
The bulk of comparisons have, to date, been flawed – deliberately – to swing the outcome in the way the author so chooses. A cursory glance normally detects gaping omissions.
Today, Australia's independent central bank has released a research discussion paper titled "Is Housing Overvalued?"
The paper is written by Ryan Fox from the bank's Financial Stability Department and Peter Tulip from the bank's Economic Research Department. Full housing disclosure was given – Tulip brought a house during the preparation of the paper, while Fox continues to rent.
The comprehensive analysis examines the costs associated with home ownership such as council rates, repair/maintenance and expenditure, but excludes expenses paid by investors such as property agent fees and land tax. Significant one off fees are incurred when one buys and sells their home – stamp duty, conveyancing costs etc. The report estimates these can add as much as 7.25 per cent to the cost of ownership and it determines the median length of tenure is 10 years. These costs are amortised over the 10 year period.
The interest rate used in the calculations is the fixed 10-year mortgage rate and it assumes the opportunity cost of the owner's equity is close to the mortgage rate.
It also discusses more subjective factors such as risk of capital loss, flexibility of moving, security of tenure, freedom to renovate etc and indicates "although these considerations are important at an individual level, at an aggregate level they seem to cancel out."
While the paper indicates there is no signs of a bubble in Australia, it does come to the conclusion that it will probably be cheaper to rent than own. The uncertainly surrounds the future growth of Australia's house prices. If real prices continue to grow by 2.4 per cent a year, the average rate of increase since 1955, then renting will be approximately the same price than buying. However, if real prices appreciate slower than the 2.4 per cent historical average, then renting will be cheaper than buying.
The report doesn't provide much analysis on the future direction of house prices, but it does report on predictions from some forecasters that growth will moderate. The paper notes real price appreciation in the past ten years since 2004 is 1.7 per cent.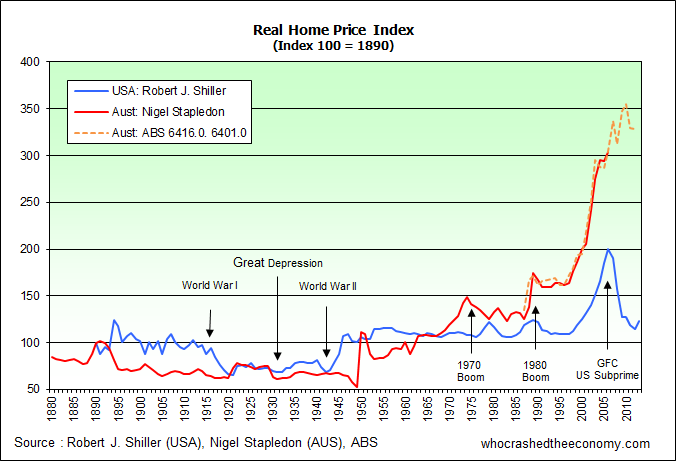 Above is real house prices in Australia (and the USA) dating back 134 years from 1880. You can see a upward trend since 1955 before house prices rapidly accelerated into bubble territory around the turn of the century.
Nobel prize winning economist, Robert Shiller is responsible for the U.S.A. real house price dataset. He found, historically, house prices do not increase much more than inflation, i.e real house price growth is close to zero. In 1880, Shiller's index was 100. Just prior to the United States sub-prime bubble, the index was barely over 100 and after the bubble burst, the market made a trajectory back to mean. The concept is simple – if house prices rise more than inflation, each generation will find it harder and harder to purchase a home until a point where everyone is priced out of the market. While it is evident the current generation has been priced out by something the reserve bank refuses to call a bubble, historic growth of 2.4 per cent is not long term. Your parents paid roughly the same for housing than your grandparents and great grandparents.
If 120 years of history is not conclusive enough, Dutch economist, Piet Eichholtz created a Herengracht Real Location Value Index for homes on Amsterdam's Herengracht Canal dating back 350 years. It also has the same outcomes. Prices do not rise much faster than inflation (if at all) and while the Herengracht Canal has seen many bubbles in the past 350 years, they have all corrected back to norm.
Expecting long term sustainable real growth of even 1.7 per cent might be a bit optimistic. Subjective factors such as risk aversion to capital loss (and being able to sleep at night) could be undervalued.
» Is Housing Overvalued? – Ryan Fox and Peter Tulip; Reserve Bank of Australia, 14th July 2014.
» The RBA says you're probably better off renting – The Sydney Morning Herald, 14th June 2014.
» Reserve Bank paper states 2.9 per cent is the magic number for deciding whether to buy or rent – News Limited, 14th July 2014.
» Dutch history pointing to real estate fall – The ABC, 28th January 2008.