The International Monetary Fund (IMF) recently reported Australia has, based on price to income ratio, the third most overvalued property market in quarter 4, 2013. Since then, according to the Australian Financial Review, we have leap frogged Canada to take second place honours, behind Belgium who has honours as the most expensive property market.
While economic reports both within Australia and abroad continue to ring warnings that housing is becoming a significant source of systemic risk for Australia (Think of what happened in the United States, Spain, Ireland, Greece etc), our politicians are quickly devising ways to make our bubble even bigger and far more dangerous. This had caused speculation that it is actually our politicians driving this bubble for their own personal greed.
Monday week, during a Senate Economics References Committee hearing in Adelaide, Senator Nick Xenophon said rules should be changed to allow first home buyers to dip into their super to help pay for a home. He said such a scheme was operating in Canada (remember they had the 2nd largest housing bubble, until we took that rank) allowing access up to $25,000 and it has lead to improved housing affordability.
"With more and more Australians finding it difficult to break into home ownership, adopting the Canadian scheme would make a difference to many thousands of Australians each year," Xenophon said.
Everyone knows if you introduce – say a $7k First Home Buyers Grant, prices rapidly increase by $7k and any benefit of the grant is quickly eroded (until the next grant is announced…). Allowing Australian first home buyers to access $25k from their Superannuation accounts to fund a leveraged purchase into our property bubble will only help thrust property prices up another $25k. So why would you suggest such a ludicrous idea, let alone announce he will submit a bill into a spring session of Federal Parliament?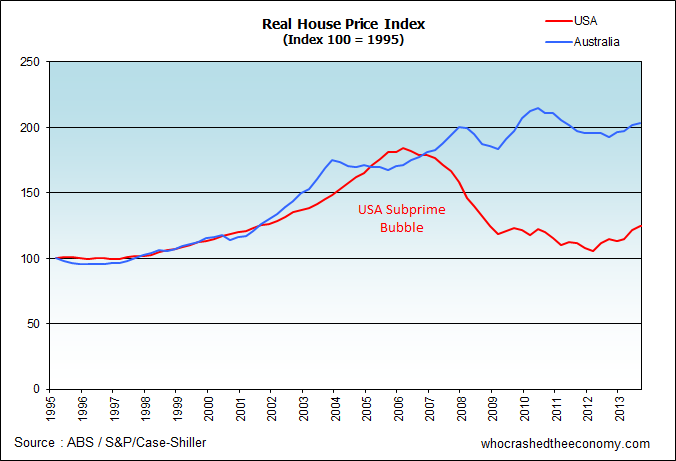 Australia's property bubble is now quite a bit larger than the one the United States experienced at the height of 2008. One of the reasons for this has been the multiple government incentives the government comes out with when the market exhibits signs of collapse (50% capital gains discounts, First Home Buyers' Grants (FHOG), First Home Buyers' Boosts (FHOB), allowing practically unrestricted foreign investment etc – and that is on top of negative gearing and other tax distortions.) For example, Treasury executive minutes stated the FHOB was "short-term stimulus [..] designed to encourage people who had already been saving for a home to bring forward their purchase and prevent the collapse of the housing market." – You can't get more honest than that!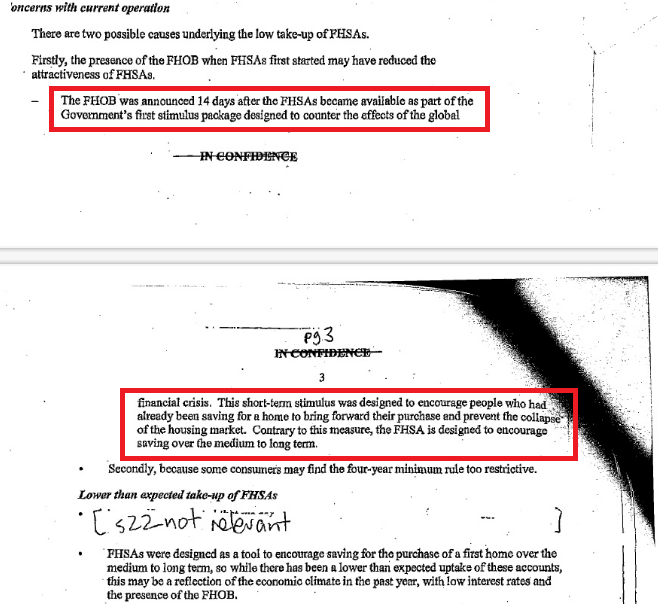 One of the most recent changes, in September 2007, has been allowing Self Managed Super Funds (SMSFs) the ability to leverage up into our property bubble, throwing good retirement funds after bad into speculative markets seasoned with quite a bit of gearing.
From a politicians point of view, this legislation has been extremely successfully. There is currently no shortage of potentially naive property investors jumping head first into the market and keeping a floor under property prices. From the view of the regulator, there is significant cause for concern. A review by the Australian Securities and Investments Commission (ASIC) found only 1 percent (yes, one percent) of SMSFs were getting "good" advice about leveraged property investment. It's no wonder when most of this information is spruiked during high pressure property seminars. For an increasing number of Super Fund's investing in property, it has been an unmitigated disaster with some funds losing 75% in less than two years.
Superannuation savings is seen by politicians as a good source of funds to keep the bubble inflated and staving off collapse. But one has to question the long term effects? Not only could individuals lose a significant portion of wealth stored in homes and investment properties, they could also see reduced retirement savings.
Senator Nick Xenophon's suggestion to improve housing affordability (or make it worse depending on where you stand) has been ridiculed by thousands of Australians over the past two weeks. But it is also drawing International attention – all the way from Canada. Garth Turner from The Greater Fool even suggests Nick needs a "better research assistant." Turner goes on to write:
Now, Nick, we're reaping the bitter harvest sown when that dumbass legislation passed. Allowing first-time buyers to remove tax-free money to buy a modest home they could not otherwise afford, then restore it to their long-term retirement savings makes perfect sense in theory. In practice and experience, just the opposite.

To date the HBP [Home Buyers' Plan] has been used about 2.5 million times, with roughly $30 billion removed from savings and investments and plowed into real estate. When combined with dirt-cheap mortgage rates (I notice Aussie banks just slashed five-year rates to an all-time low) and voracious, carnivorous bankers, it's helped push home prices into the clouds. The cost of an average detached house in two of our major cities now exceeds $1 million. (I see median home prices in Sydney rocketed 17% in the past year, to $812,000. So you know what I mean.)

In other words, if you think letting people steal money from their financial futures in order to buy houses today which they really can't afford is going to make real estate more affordable, you've been spending too many evenings with the goat. The opposite is probable. In Canada, it's fact.
So maybe Xenophon just made an honest mistake and didn't do thorough homework before proposing this idea?
Aussie Politicians and their $300 Million Property Portfolio
Earlier this week, research surfaced on our politicians and their sizeable investment portfolios. In an article titled The Propertied Federal Political Class, the authors write:
The public should ask "Are the property holdings of our federal politicians negatively influencing policy and causing them to ignore evidence?"
It's a very good question.
Their comprehensive research show 226 members in both houses of parliament with an ownership stake in a total of 563 properties – an average of 2.5 properties per member.
The news spread like a virus, with Fairfax later picking up the story, The many houses of Parliament: property-rich pollies 'have vested interest' in high prices
Oh and Xenophon I hear you ask? He owns just eight….
» Nick Xenophon Wants The Rules Changed So Young Home Buyers Can Use Retirement Savings – Business Insider, 28th July 2014.
» Nick Xenophon's Idea To Let First Home Onwers Access Super To Buy A House Is Misguided Helpfulness – Business Insider, 29th July 2014.
» Nick Xenophon's dangerous idea on housing – Herald Sun, 9th August 2014.
» No kidding – The Greater Fool (Garth Turner), 6th August 2014.
» The many houses of Parliament: property-rich pollies 'have vested interest' in high prices – The Sydney Morning Herald, 6th August 2014.
» Garth Turner hammers Nick Xenophon – Macrobusiness, 7th August 2014.
» Aussie politicians' $300m property portfolio – Macrobusiness, 6th August 2014.
» Investors face big losses when the honeymoon is over – The Sydney Morning Herald, 18th July 2014.