Today's release of the December '08 National Accounts came as a surprise. Not the fact that Australia's GDP has recorded its first quarter decline since 1991 – it was only a mater of time for Australia to join the ranks of countries in recession. But while GDP has started to sink, technical we won't be in a recession until two quarter's of negative growth is recorded – that will come in three months.
The surprise was in the Household Net Savings Ratio.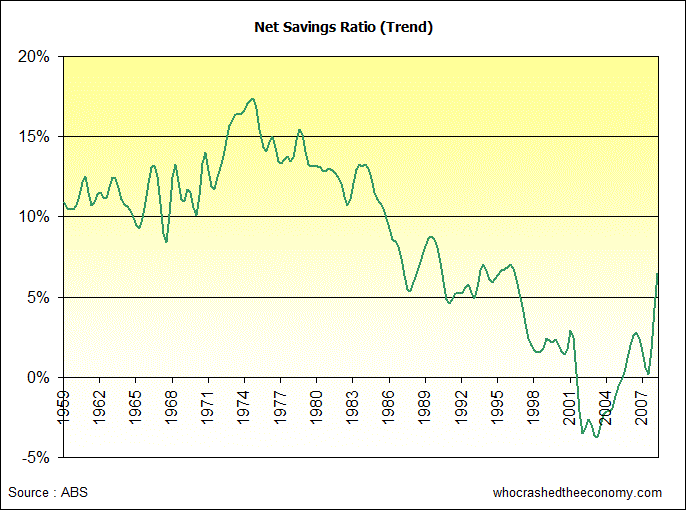 It appears Australians, probably assisted by Kevin Rudd's stimulus war chest is starting to turn into a nation of savers again. For those that have followed this site since we began in 2006, one area of focus has been household savings. In 2003, Australia households started spending more than they earned – clearly something not sustainable. In 2006 our poor record started to rub off on our friends in the U.S. Up to 2006, the U.S. had only ever recorded two years of negative savings, both years during the Great Depression when households dug into their savings to help purchase essential items such as food.
December 2008's Net Savings Ratio has hit 6.6 per cent in trend terms and 8.5, seasonally adjusted. The seasonally adjusted figure is the highest it's been since September 1990.
The realisation that unemployment will trend upwards has no doubt sent fear into Australian households and lead to the recovery of savings (and the reduction of consumption). Households are trying to de-leverage as quick as they can, and you certainly can't forgive them granted the size of household debt we carry today.
Unfortunately Jobs, none more so than retail, was supported by the fact Australian's were spending more than they earned. Now that this unsustainable habit has abruptly stopped, less disposable income is flowing into the economy to help support these jobs.
» 5206.0 – Australian National Accounts: National Income, Expenditure and Product, Dec 2008 – The ABS, 4th March 2009.