The price earnings ratio or PE is a gauge of a stock's valuation. The higher the PE ratio the more overvalued a stock or share is.
Below is a chart of the average PE ratio for the S&P500 (an indice of 500 large cap stocks listed on the NYSE and the NASDAQ). Generally the PE ratio floats between 15 and 20.
In the lead up to the Great Depression in 1929, the PE ratio for peaked around 32. During tech wreck, a period where tech companies experienced dizzy share prices and actually had no earnings, the PE ratio peaked around 46.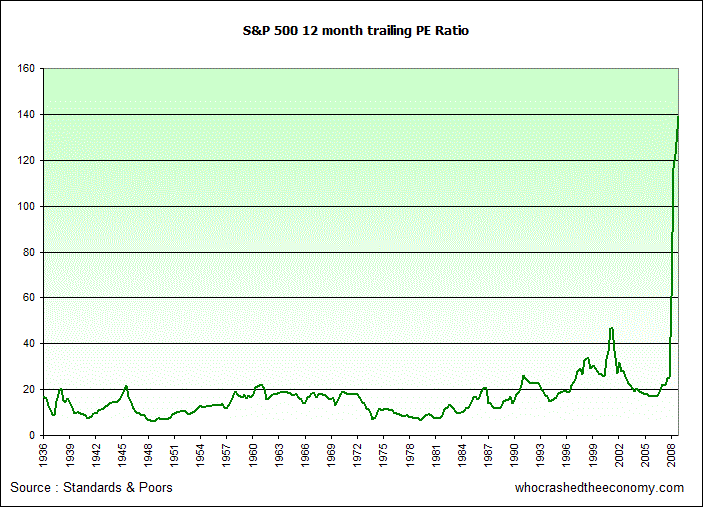 Today, the PE ratio is 141. In the past months we have seen earnings fall through the floor, yet share prices have rallied in the opposite direction, only exaggerating the PE. (The dictionary definition of exaggerate is to "magnify beyond the limits of truth")
This begs the question of when this irrational exuberance will end?
Next Wednesday, J.P. Morgan Chase will kick of the third quarter bank reporting season. While bank stocks have surged in the third quarter, there is concern about earnings that may be more negative than many investors expect.
"Third-quarter earnings for most banks, particularly the regional lenders, will be extraordinarily negative," Richard Bove, an analyst at Rochdale Securities said. He expects 60% of banks will report losses.
"None of this bodes well for the third quarter," Bove said. "Once the market is faced with the reality of how bad the earnings are, it will be interesting to see whether investors will be able to hold on to these stocks at these price levels."
» October surprise from bank earnings? Some experts worry results may be much more negative than investors expect – Market Watch – 10th October 2009.