The Housing Industry Association (HIA) has this week released a report showing Australia's housing "shortage" will quadruple if we don't act now and increase the number of homes being constructed.
The group has called for another 466,000 homes to be built by 2020, with the "shortage" currently at 109,000 homes. The report shows Australia's population is likely to grow to 36 million by 2050, further straining affordability.
A severe housing shortage in Australia is said to put a floor under house prices, and used by the industry to dismiss any notion there is a housing bubble in Australia.
On the 9th February 2006 a similar article was ran in California :
The California Building Industry Association (CBIA) continues to express alarm over what it calls an ongoing housing crisis in Southern California.

Alan Nevin, the association's chief economist, projected in a 2006 CBIA Housing Forecast that only 185,000 to 205,000 building permits will be granted this year, far short of the 240,000 new homes needed each year.

Southern California has been experiencing a massive population boom in recent years and it's believed that 6 million new residents will be living in the region by 2020. The population increase, coupled with the housing shortage, has the CBIA worried that it will be increasingly difficult for first-time homebuyers to find a moderately priced unit.

"Los Angeles and Ventura counties are suffering from a housing crisis," said Holly Schroeder, chief executive officer of the Building Industry Association Greater Los Angeles Ventura Chapter. "While we have seen increases in permitting, it still consistently falls far below the needs of our region. We have to find a way to take care of our own and provide housing to those that need it and want it."
Yet, despite the shortage, this is what happened to Los Angeles' House prices after the article was published :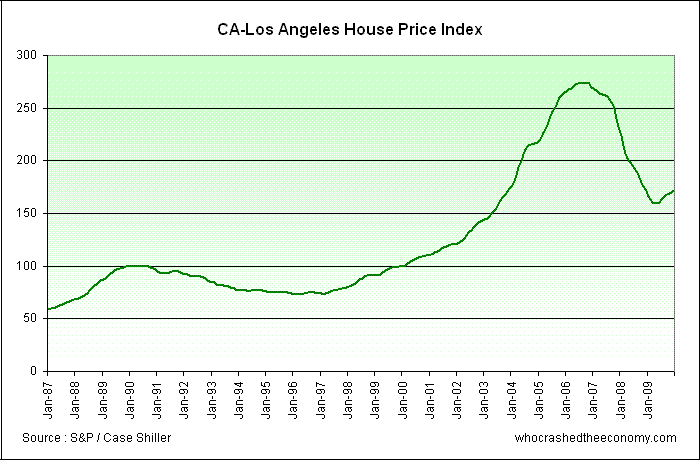 Even the U.K. had a shortage of houses prior to their housing crash :
Shortage of homes over next 20 years threatens deepening housing crisis
19 March 2002
Britain is heading for a property shortage of more than a million homes by 2022 unless the current rate of housebuilding is dramatically increased, according to reports from the Joseph Rowntree Foundation (JRF). The evidence, being presented at the Foundation's Centenary Housing Conference in London, reveals that the supply of housing is already falling behind demand faster than previously recognised.
» Housing shortage to quadruple: HIA – The Sydney Morning Herald, 19th March 2010.
» Construction industry says housing crisis has hit California – February 9, 2006.
» Shortage of homes over next 20 years threatens deepening housing crisis – March 19th, 2002.