You have heard it time and time again. A small miracle has occurred down under, we have dodged the biggest financial crisis since the great depression and are on the road to recovery.
But are we? Are we really in the Great Impression – The impression that everything is a o.k?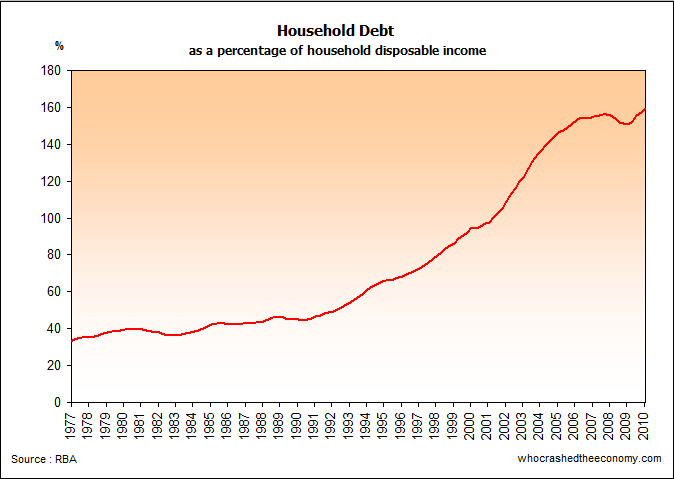 According to the RBA, prior to the GFC Australian household debt peaked at 156.1% of household disposable income. The GFC had Australian's questioning popular belief if money does in fact grow on trees and caused many Aussies to start making extra debt repayments. But this only lasted for a while, and now we are lead to believe nothing is wrong, household debt has reached new heights in June 2010 at 159.2% – not long now before we punch through 160%!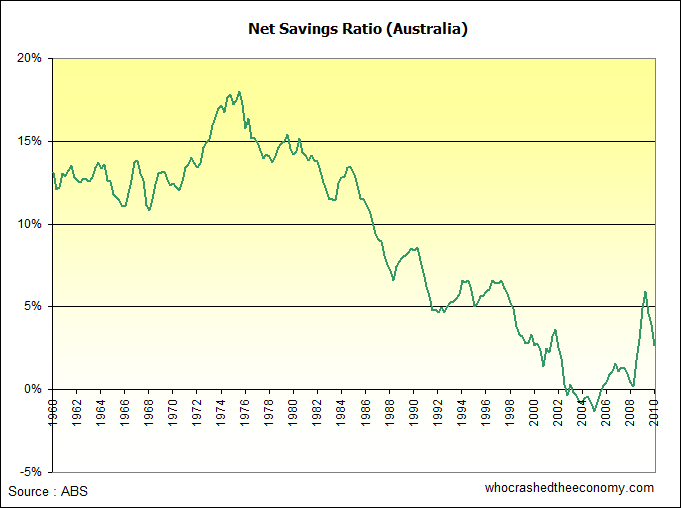 With the knowledge that once again money does grow on trees (this is one of the things different about Australia), we can start to spend more than we earn. The household net savings ratio has started to head towards negative territory. In fact, while the above graph is the net savings ratio for a 12 month period, in the June 2010 quarter households spent the aggregate $1.9 billion more than we earn't. That's right, we are back to the good old times of prior to the GFC where spending more than you earn is the norm. Quite sustainable, really.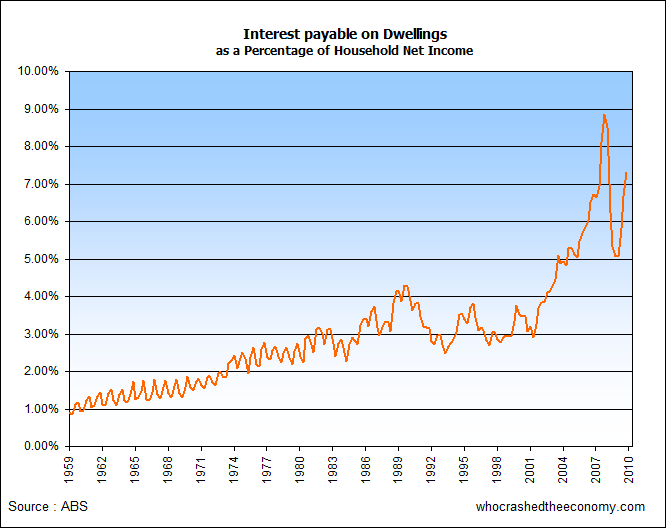 Most Australian's still struggle with the basic concept that debt repayments are the product of interest rates and the debt owing. Quite often we are told how good we have it, because interest rates are so low. The boomers won't hesitate to remind you of 1989 when Interest rates peaked at 17%
But over the past 30 years, household debt has quadrupled. In 1989 interest payable on dwellings represented 4.15% of all household disposable income, that is the aggregate of all households in Australia. That same level was reached in 2003, and since then we have been paying more in debt repayments now than in 1989, simply because of the sheer size of household debt. In June 2010, national accounts show Australian Households as a whole are putting aside 7.30% of household disposable income to service mortgage repayments.
Have we really dodged the worst financial crisis since the depression, or is the bubble still building? With the RBA warning today that interest rates will have to rise further to combat an overheating economy, is breaking point just around the corner?