Today, the Adelaide Sunday Mail printed the following in an article titled "Housing boom over as values fall" :
ADELAIDE'S median house price has fallen by $8000 since hitting a record high this year, the latest sales figures show.

And the real estate industry says the past decade's price boom – averaging an increase of almost 20 per cent a year – is over.
Real Estate Institute of SA president Greg Nybo said "There is no speculation in the market and vendors have to be competitive with their pricing".
No speculation? Does that mean the market will fall back to an equilibrium point where the market is driven by fundamentals and, not speculation. If so, we have some quite sizable falls ahead of us as the Australian housing bubble comes back to earth.
The same sentiment can be felt right across Australia. Also Today, but in a Melbourne Herald Sun article titled "Melbourne home buyers happy to wait out buying properties", the paper writes :
HUNDREDS of millions of dollars worth of property went unsold yesterday in a pre-Christmas blow to vendors.

A near record number of properties were put under the hammer, but only 61 per cent sold as market uncertainty ensured buyers kept their hands in their pockets.

In a further blow to vendors, agents declared property prices across Victoria had fallen by as much as 5 per cent from their highs set earlier this year.
But as we found out in 2008, government interference in markets can delay the inevitable. When the Australian housing market started buckling under the weight of debt in 2008, the government introduced the first home buyers boost. According to Treasury minutes this "short term stimulus was designed to encourage people who had already been saving for a home to bring forward their purchase and prevent the collapse of the housing market."
Window Dressing (Banking Reform)
Today's "big" policy announcement was on banking reform. It was designed at easing the "rates pressure" Australian families are experiencing and hence we couldn't make a prediction on a housing crash until we see how the government attempts to rigs the housing market under these new reforms.
Bank bashing has displaced cricket as Australia's most popular sport. Wayne Swan wanted to get in on the band wagon and show up John Howard with support for the new sport and win some political points along the way.
As part of the package, exit fees on new home loans will be banned from the 1st July next year, but while the details are still sketchy, it's believed the ban won't apply to existing loans. This reform is believed to assist borrowers to more easily switch providers and help them take advantage of cheaper rates.
Other reforms include a mandatory key fact sheet for new home loan customers, flexibility to more easily transfer deposits and mortgages, expedite legislation to allow better deals with credit cards, to set-up a task force to get ATM competition reform and to support smaller banks, essentially creating the fifth 'pillar' of our banking system. This will come with a community awareness and education program called "Bank on a Better Deal."
The government will also invest a further $4 billion into Residential Mortgage Backed Securities (RMBS) and allow all banks, credit unions and building societies to issue covered bonds.
Covered bonds gives the bond buyer recourse to the pool of mortgages or other secured collateral in the event of a default. For example, if the bank is unable to pay it's obligations under the conditions of the bond, the bond holder has recourse on deposits held by the bank. The current Banking Act 1959 prevents banks from the issuing of covered bonds, as depositors must be placed first over other creditors when the bank is wound up.
Both the RBA and Australian Prudential Regulation Authority has warned against allowing covered bonds, but it looks like the Government has caved into the demands of the big banks on the understanding covered bonds will help the banks obtain cheaper funding. According to the government, draft amendments to the Banking Act allowing covered bonds will be released during the first sitting of Parliament in 2011.
Treasury re-assures deposit holders that "Australian depositors will continue to have absolute certainty over their deposits under the Financial Claims Scheme, which is a permanent feature of Australia's banking landscape."
It appears all of today's reforms are about reducing interest rates by a couple of basis points so Australian households can breath again (before they load up on more debt).
Wayne Swan is not one bit concerned about this :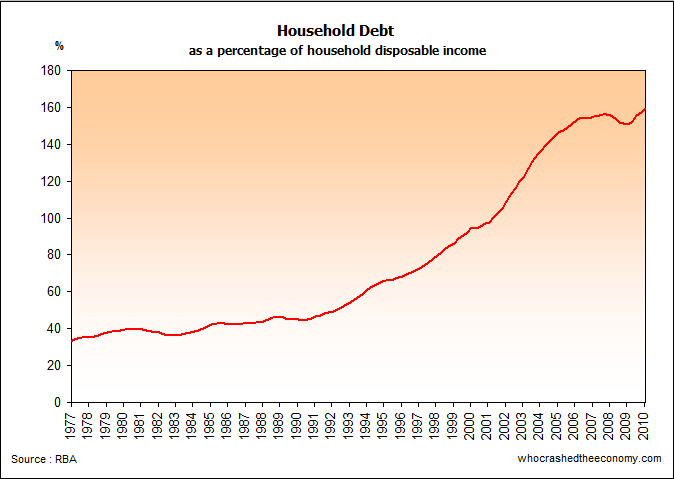 But rather this – Interest rates are far too high! :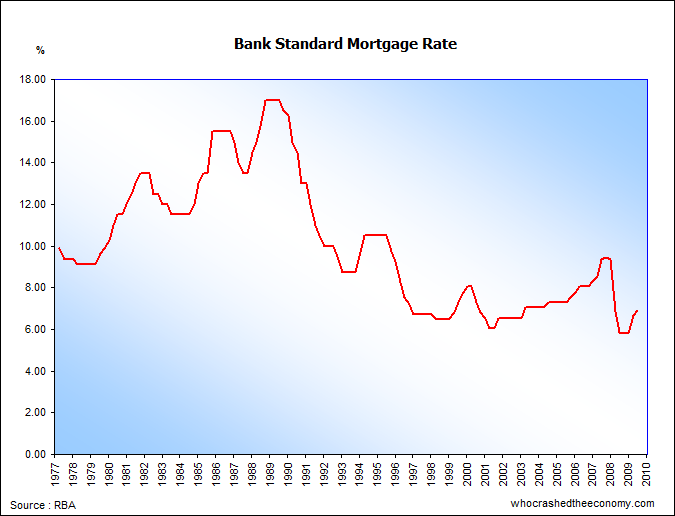 The result of our extremely high levels of household debt and low interest rates make this :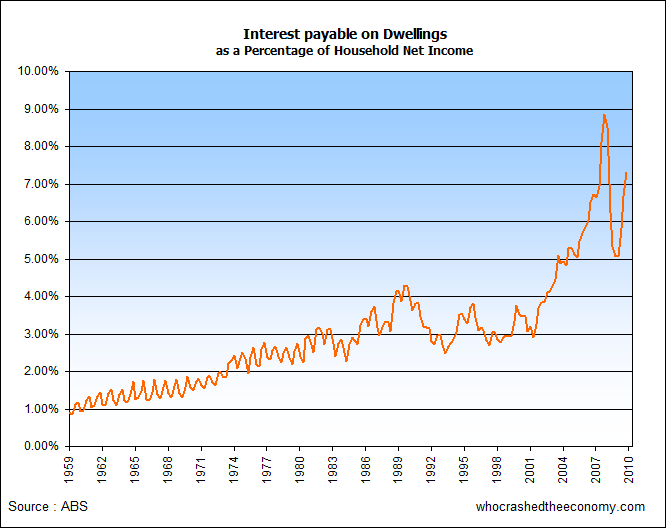 Extreme Mortgage Stress. Today's reforms do little to address the real underlying problems.
Personally, we would like to see banking reform that encourages responsible and sustainable levels of mortgage lending though caps on loan to value ratios (LVR) and limits on serviceability, tax reform that encourages savings (maybe taxed at 15 percent) and a community awareness and education program about household debt levels and savings. We would call it "Bank on a sustainable future." – Although we do admit that we are more than 8 years to late to prevent the debt fuelled crash.
» Housing boom over as values fall – Adelaide Now, 12th December 2010.
» Melbourne home buyers happy to wait out buying propertes – The Herald Sun, 12th December 2010.
» RBA, APRA wary of covered bonds – The Australian, 1st December 2010.
» Competitive and 'Sustainable' Banking System – Australian Treasury, 12th December 2010.