Last week, figures from the Reserve Bank of Australia showed home loan credit growth was at its lowest level ever recorded, with RBA records dating back to the 1970's.
On Tuesday the ABS released the latest quarterly update to 6416.0, House Price Indexes: Eight Capital Cities, Jun 2011.
With extremely poor credit growth for housing, there was no surprise to see continued falls in house prices around the country, as Australia suffers from crippling levels of household debt and the unwinding of the First Home Owners Boost.
A reader has asked if we can update the Real House Price graphs, and with the ABS figures hot of the press it was the perfect time to do so. Our last update was in 2008, and it was scary then.
With our housing bubble once again faltering and GFC2 in kicking distance, we are seeing a surge of newcomers to this site. In this context, we will cover some existing ground and explain what real home prices are.
Real Home prices are simply prices (or an index) corrected for inflation. The U.S. is probably a great example, I'll show this first :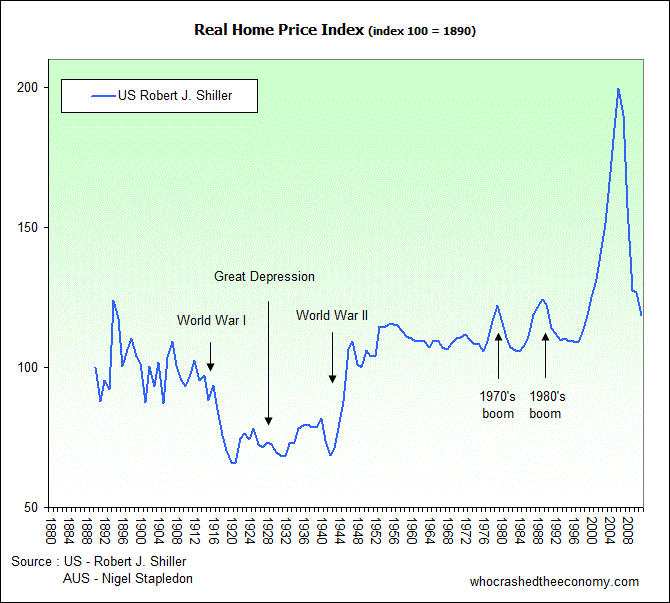 In this case, the index started in 1890 at 100 and tracks house prices, corrected for inflation and relative to 1890. What you will notice, is the index is relatively flat, that is, house prices today in the USA (after a huge bubble last decade) is not much more than in 1880, in today's buying power. Assuming wages also tracked inflation, this means an American's great grand parents paid roughly the same for a house in 1890 than today as a percentage of their income.
But as you can see, it wasn't always like that. Easy credit and a real estate industry promoting 'facts' that house prices double every 7 years and a chronic shortage of homes caused a substantial housing bubble last decade, and when households couldn't borrow any more to keep the ponzi scheme going, it imploded inwards causing GFC1. This is a good example that 'a permanently high plateau' (real estate professional speak) isn't sustainable.
The data source for U.S. home prices comes from Robert J. Shiller, Professor of Economics at Yale University who wrote the book Irrational Exuberance. He frequently updates the U.S. data and posts it on http://www.irrationalexuberance.com
Now lets turn to Australian real home prices :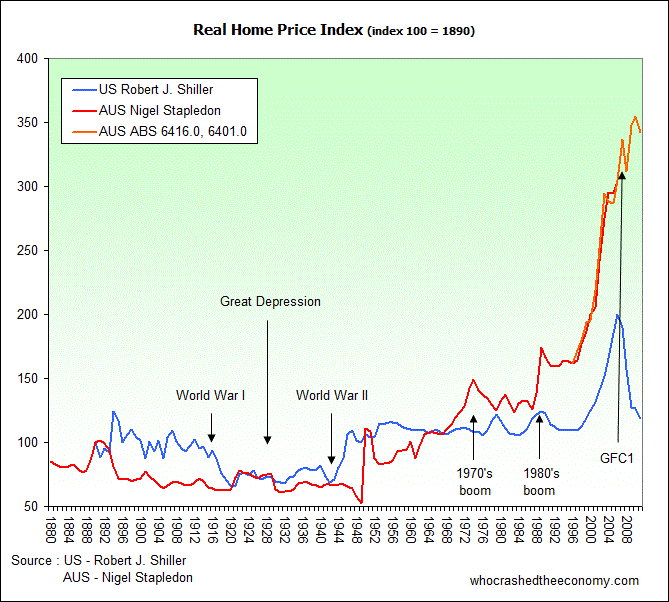 Yes, that's America's "little" bubble – the blue line down the bottom!
Our bubble continues to aim for the sky thanks to tax incentives such as negative gearing and what seems like bottomless stimulus. You will see a small decline during GFC1 before the Rudd Government introduced the First Home Owners Boost. According to Treasury Minutes, "The short term stimulus [BOOST] was designed to encourage people who had already been saving for a home to bring forward their purchase and prevent the collapse of the housing market." This may of achieved the government's short term goal and prevented the collapse of housing bubble in 2008, but it begs the question what is the government's plans now that the BOOST has finished, and housing is once again falling?
The dataset for Australia comes from two sources. The majority of the data (1880 to 2006) comes from Dr Nigel Stapledon from the University of New South Wales. Prior to 2003, Dr Stapleton was Chief Economist for Westpac Bank. This dataset is continued (orange line) using data from the ABS.