The latest installment of the official House Price Index from the Australian Bureau of Statistics (ABS) was released today showing Australian house prices continued to fall in the December 2011 quarter. The weighted average of the eight capital cities fell 1.0 percent in December, ending a year where house prices fell in every quarter. For the year, 4.8 percent was wiped of the value of Australian homes.
Brisbane led the falls, slashing 6.7 percent from values. Adelaide, considered one of the more affordable capital cities racked up second place at 6.4 percent.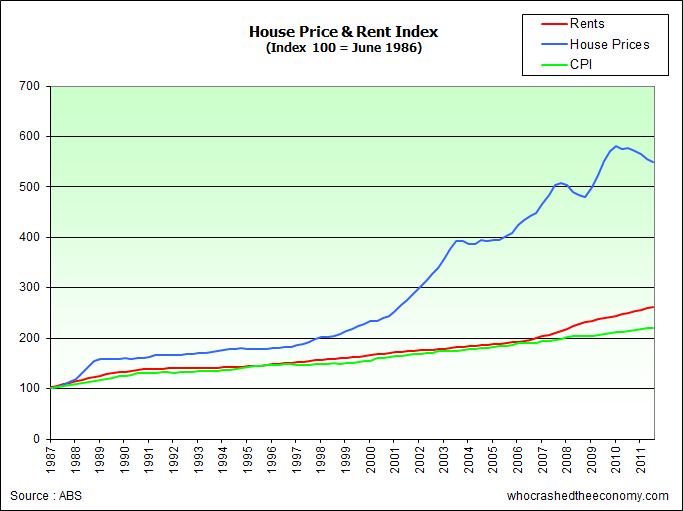 Assuming there is no further government interference in Australia's housing market, this years falls is considered to be the start of many in a long period of painful deleveraging. The Economist Magazine reports Australia has one of the largest property bubbles in the world and is overvalued by 53 percent on a rent to price metric. It also believes Australia, Belgium, Canada and France have property markets that are more overvalued today than at the peak of the American housing bubble.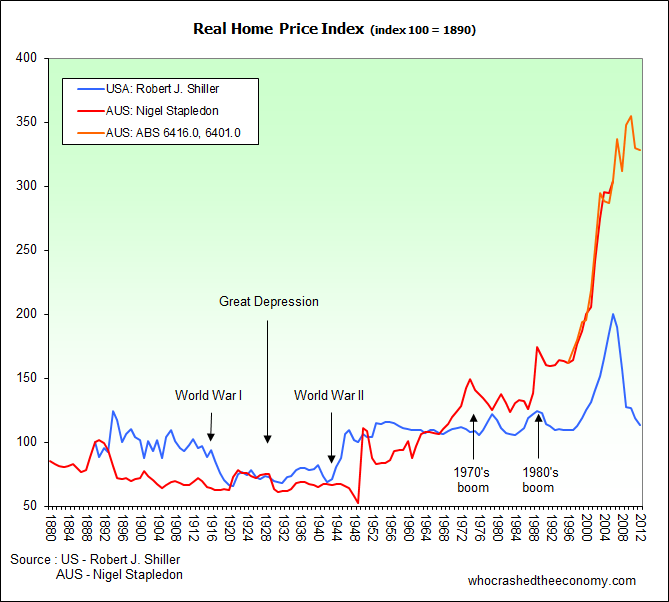 While housing lobby groups in the USA cried a chronic shortage of houses, and central bankers said not to worry – there is no bubble, thus there can't be a crash, Yale Professor Robert Shiller was raising concern about America's housing bubble. His real house price index is shown above in blue.
After 5 years and 5 months, the S&P/Case-Shiller Home Price Index for 10 composite cities show house prices have fallen 32.8%.
In Australia (red/orange line), some analysts believe house prices may have bottomed out. On a more serious note, Henry Blodget asked the same question to Robert Shiller about the United States property market while in Davos on the weekend.
Shiller answered, "When people phrase it that way, they say 'we've reached the bottom.' That suggests that we have the expectation of a major turning point right now. But I don't see that. I don't see any reason to think that prices are going to start heading up dramatically now. We do have some good news. Permits are up. Notably, the National Association of Homebuilders Housing Market Index is up and that's a forward-looking index. But it's not up very much. If you look at the rate of change it looks dramatic but it's still at a low level. "
Blodget suggested property prices in the United States was starting to look like 'fair' value relative to long term historic trends (i.e. graph above of real house prices), but Shiller argues what does 'fair' value actually mean in an economy like this. Shiller is questioning if America will overshoot. "Now the question is whether we'll overshoot, which is a common thing that happens after bubble burst."
As Shiller has looked at bubbles going back hundreds of years, Blodget naturally asked if Shiller has ever seen a bubble where there wasn't a major overshoot. His reply "Well, the problem is we've never had, in the United States, a bubble like this, of this magnitude before. That's the problem. That's the fundamental problem of economics."
But this isn't a problem limited to America. In Australia, Dr Nigel Stapledon from the University of NSW and former Westpac Bank Chief Economist has compiled real home prices for Australia. In a Morgan Stanley research paper written by Gerald Minack titled "Australian Strategy and Economics : Living in a bubble", Minack provides the following graph of real median Melbourne house prices dating back further than our graph above.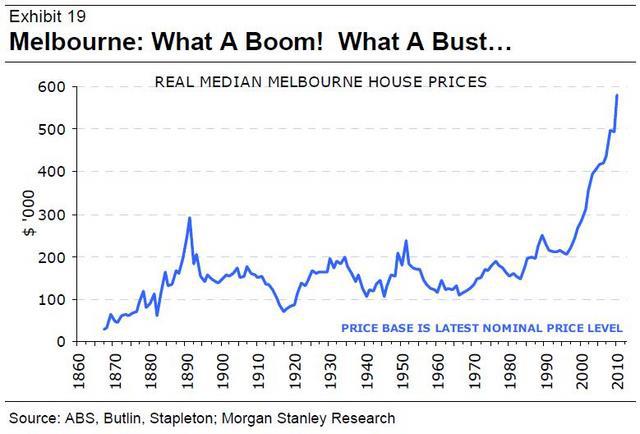 As you can see, today's prices are unprecedented in Australia, eclipsing the speculative land boom in Melbourne after the gold rush era (we were digging up stuff then, too) and leading to the Australian Banking Crisis in 1893.
» 6416.0 – House Price Indexes: Eight Capital Cities, Dec 2011 – Australian Bureau of Statistics, 1st February 2012.
» Can't happen! – cause it's never happened before! – Who Crashed The Economy, 14th July 2010.
» Housing Bottom? What Are They Thinking? – Business Insider, 29th January 2012.