Treasurer Wayne Swan says it is "utterly irresponsible" to call today's 25 basis point cut to the official cash rate as a cut to "emergency" levels. He is referring to the emergency low 3.00 per cent the cash rate reached after the collapse of Lehman Brothers and at the height of the global financial crisis. So to avoid conflict, we will report the official cash rate now sits at levels "lower than emergency lows".
As the economy continues to deteriorate, today's slash to 2.75 per cent is the lowest setting ever announced by the Reserve Bank after it started setting rates in 1990. It is also the lowest cash rate in 53 years. It could be seen as a tipping point.
The media release from the Reserve Bank of Australia states "The exchange rate, on the other hand, has been little changed at a historically high level over the past 18 months, which is unusual given the decline in export prices and interest rates during that time. Moreover, the demand for credit remains, at this point, relatively subdued."
This time last week, the Reserve Bank of Australia released credit aggregates for March 2013 showing housing finance once again fell to the lowest level since records existed 37 years ago. Monthly housing credit growth now sits at just 0.37 per cent.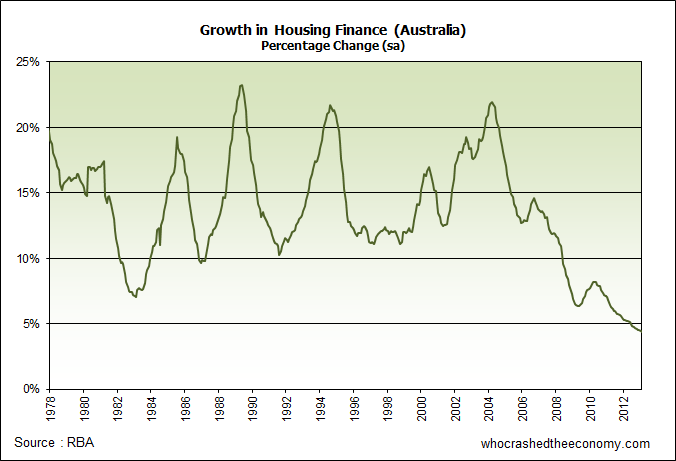 Even with interest rates at record lows, the confidence to borrow for a huge mortgage required at today's mind-boggling prices is close to non-existent. The Reserve Bank will hope today's cut will turn this around, but it is unlikely to stroke much, if any interest, for buyers to leverage into a bubble.
Today's rate cut is the first this year. Figures from the Australian Bureau of Statistics (ABS) Australian National Accounts show interest payable on dwellings as a percentage of household net income stood at 5.7 per cent in the last quarter of 2012. Record levels of household debt means it's still noticeably higher than in 1989 when interest rates where in-excess of 17 per cent.
The ABS today announced official house prices nudged 0.1 per cent higher in the March 2013 quarter, bringing year on year gains to 2.6 per cent.
The move today by the Reserve Bank could also be seen as an attempt to cool the strong Aussie dollar. The Australian Industry Group manufacturing index released last Wednesday shows manufacturing has slumped to a four year low in April under the burden of our defiant dollar.
» Interest rates not at emergency GFC levels: Swan – Yahoo Finance, 7th May 2013.
» Australia Manufacturing Gauge Plunged to Four-Year Low in April – Bloomberg, 1st May 2013.
» Home loan growth stuck at record lows – The ABC, 30th April 2013.