New research from Barclays warns Australian households have record debt levels, some of the highest in the world, greatly exposing them to heightened risk in the event of another financial crisis.
The report shows household debt in Australia is at 130 per cent of GDP, significantly more than the global average of 78 per cent. The global average has declined from a record high of 81 per cent in 2010, showing the majority of the world is deleveraging while Australia continues to binge. Household debt in Australia held steady at 116 per cent of GDP from 2008 until 2013 when Australia's property market went into hyper drive, pushing debt unsustainably higher.
The extreme household debt levels groups Australia in with many Eurozone countries, with Denmark at 129 per cent, Switzerland 120 per cent and the Netherlands 115 per cent.
Melbourne Land Boom
News Limited, who described the alarming debt levels today as a "ticking time bomb," said "The level of household debt is higher now than at any other time in Australia's history, with records going back to the 1850s."
"The level of bank lending as a share of GDP is now more than double the share of the previous peak, which was during the 1890s land boom."
In 1880, there was a speculative land boom in Melbourne fuelled by wealth that had been created during earlier gold rushes (mining). There was strong population growth, with the population of greater Melbourne rising by more than 70 per cent over 10 years from 1881. The land speculation engulfed most members of society and was helped by a surge in lending. The Federal Bank was founded in 1882 by James Munro and the funds used to speculate on suburban real estate.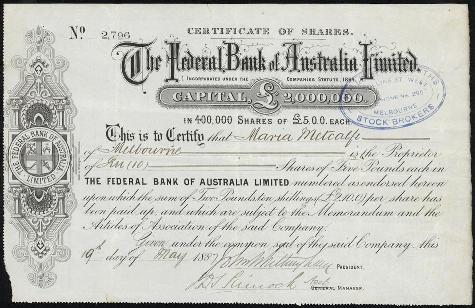 A certificate of shares in the Federal Bank of Australia, Ltd. Issued in Victoria in 1887. Source : Museum Victoria
The crash began in 1891 with land prices plunging to around half of their perceived value at the peak of the boom. For example, average property prices peaked at around £950 in Brighton in 1888 and then fell to around £400 in 1893 and £300 in 1898. Property in Collins Street that was selling for £2000 a foot at the top of the bubble, had an asking price of £600 and still was unable to attract buyers.
While the trigger is not 100 per cent clear, it's believed the crash started when banks started restricting their lending for land at the end of 1887. (No wonder APRA is too scared to do anything). Another observation was the large amounts of land brought onto the market resulted in poor rental yields. Coupled with high levels of leverage, more and more speculators experienced cash flow issues. (I guess they didn't have negative gearing then!)
Mortgage defaults and bank runs started a period in history known as the Australian Banking Crisis. The peak of the crisis was signalled by the Federal Bank failing on the 30th January 1893. Five months later, 11 commercial banks had gone under and suspended trading.
It was the biggest housing bubble in Australia's history, until now.
Australia's household debt may be unsustainable – McKinsey Global Institute
Barclays is not the only one ringing alarm bells on Australia's expanding household debt problem. In a report released in February 2015 by the McKinsey Global Institute, titled "Debt and (not much) Deleveraging", it found seven countries had "household debt levels that may be unsustainable:" – the Netherlands, South Korea, Canada, Sweden, Australia, Malaysia, and Thailand.
"Unsustainable levels of household debt in the United States and a handful of other advanced economies were at the core of the 2008 financial crisis. Between 2000 and 2007, the ratio of household debt relative to income rose by one-third or more in the United States, the United Kingdom, Spain, Ireland, and Portugal. This was accompanied by, and contributed to, rising housing prices. When housing prices started to decline and the financial crisis occurred, the struggle to keep up with this debt led to a sharp contraction in consumption and a deep recession."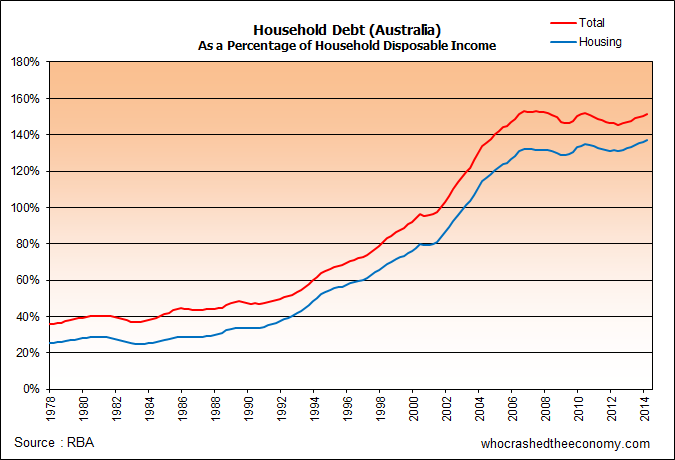 McKinsey reported since the 2008 financial crisis, "a great deal of research has been conducted to establish the link between household debt, financial crises, and the severity of recessions." (We reported on IMF findings in 2012 – Housing busts preceded by high leverage more severe and protracted: IMF")
"The rise and fall of household debt affect the magnitude of a recession. In the years prior to the crisis, when credit was flowing and asset prices were rising, economic growth appeared robust, but it was artificially inflated by debt-fueled consumption. Then, after the crisis hit and credit dried up, the decline in consumption was especially sharp as households could no longer borrow and had to make payments on previous debts, often for homes in which their equity has been wiped out."
"Just as rising house prices and larger mortgages can create an upward spiral, falling prices trigger a dangerous downward spiral. Compared with other households, highly leveraged ones are more sensitive to income shocks as a result of job losses, costly health problems, or increases in debt servicing costs. When highly indebted households run into trouble, they cut back on consumption, which contributes to the severity of the recession."
The report concluded "reduced consumption after a financial crisis causes especially severe and prolonged recessions."
» Australian households awash with debt: Barclays – The Sydney Morning Herald, 16th March 2015.
» Mortgaging our children's future: Aussie ticking time bomb sparks fears should new GFC hit – News Limited, 16th March 2015.