"Australia is vastly uncompetitive, I don't think they want to openly say it, which is why they put a lot of fudge and nonsense in the minutes today" commented Michael Every, head of Asia-Pacific markets research at Rabobank after last month's cut to the official cash rate.
Michael Every is, of course, referring to the stubborn Aussie dollar making Australia uncompetitive in the international market place and resulting in the loss of jobs from manufacturing to back office.
Stephen Walters, an Australian economist with JP Morgan summed up the severity of problem earlier last month with just two graphs: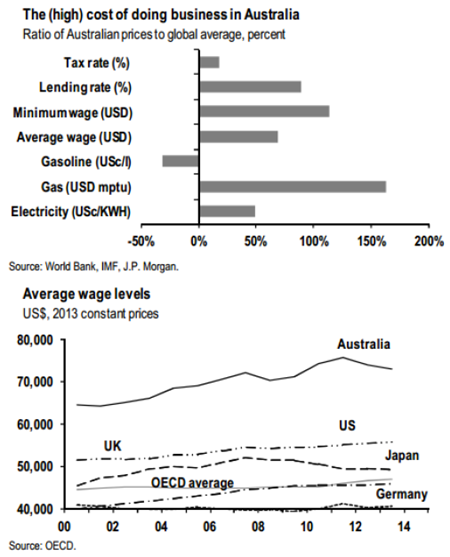 According to the data, the average Australian wage is 70 per cent above the global mean, the minimum wage is 100 per cent the global average, electricity is 50 per more and gas is 150 per cent more than the global average.
Only today, Dr Bob Baur, chief global economist at Principal Global Investors said the Australian economy is struggling because "wages are too high", Australians get too much annual leave and are too hard to fire. "In the US, we get two weeks' vacation, so three or four weeks at one time (as in Australia) is not something that's natural, at least in the US — it is in Europe, but then, Europe is not growing terribly fast either."
According to the OECD, Australian wages grew the second fastest of any developed economy over the past 13 years, but times are now changing. Last Wednesday, the Australian Bureau of Statistics reported wages are now growing at the slowest pace on record.
The other reason why our labour rates are considered high globally is due to our strong dollar. The mining boom has seen a bad bout of dutch disease creep in as the dollar surged above parity with the USD. Today, a currency war and an internationally high official cash rate have seen a flight of money heading into Australia. Sending the dollar lower is considered one way of increasing Australia's competitiveness and this is likely to be easier than getting all Australians to take a 38 per cent pay cut (New employees at Coca-Cola Amatil to earn 38 percent less).
The statement from the Reserve Bank of Australia on today's monetary policy decision indicated:
The Australian dollar has declined noticeably against a rising US dollar, though less so against a basket of currencies. It remains above most estimates of its fundamental value, particularly given the significant declines in key commodity prices. A lower exchange rate is likely to be needed to achieve balanced growth in the economy.
The Australian economy is now in worst shape that this time last month. Unemployment hit 13 year highs last month, according to figures from the ABS. Capital expenditure is falling faster than expected and a slowing China, forced its central bank to cut rates on Saturday.
But the Reserve Bank was unable to act today due to increased risks posed by the housing bubble. After cutting the official cash rate last week, irrational property spruikers have been drumming up insatiable appetite for housing, especially in the overheated Sydney market. One commentator, ex RBA, said the market was racing away like an "out-of-control freight train." Needless to say, this has serious consequences for Australia's banking system.
The RBA reiterated its joint effort with other regulators to control the dangerous bubble in its monetary policy decision statement:
The Bank is working with other regulators to assess and contain risks that may arise from the housing market.
But until this framework is in place, the RBA might have to sit and wait tight.
Further easing of policy may be appropriate over the period ahead, in order to foster sustainable growth in demand and inflation consistent with the target. The Board will further assess the case for such action at forthcoming meetings.
» Statement by Glenn Stevens, Governor: Monetary Policy Decision – The Reserve Bank of Australia, 3rd March 2015.
» 'No economic benefit' in further surge in house prices, economists warn RBA – The Age, 2nd March 2014.
» The boom is about to go bust – The Sydney Morning Herald, 2nd March 2015.
» Australia central bank acting like it 'just woke up' – CNBC, 5th February 2015.