"Domestically, the unwinding of housing-market tensions to date may presage dramatic and destabilising developments, rather than herald a soft landing."
This is the latest warning from the OECD Economic Outlook and comes after the Reserve Bank of Australia stoked the hot coals last month, slashing the official cash rate by 25 basis points and sending Sydney's property prices surging 3.1 per cent in the month of May.
It highlights the enormous challenge the Reserve Bank faces in trying to support an ailing economy while engineering a soft landing in Australia's unprecedented housing bubble. No central bank has ever pulled off such a feat – anywhere in the world.
Some economists argue cutting the official cash rate is actually detrimental to the economy. Australian households are burdened with some of the highest levels of household debt in the world.
Conventional monetary policy wisdom is that cutting interest rates should spur more spending by both households and businesses, but this is looking less likely with each rate cut as Australia joins in the race to the bottom.
Most banks don't automatically pass on rate cuts with a lower repayment amount unless asked. With an uncertain outlook for jobs and growth, many households are opting to maintain repayments at previous rates. On the other hand, savers, such as retirees are forced to cut back spending. Poor deposit rates are forcing savers to leverage into equities and property bubbles in the pursuit of perceived higher yields.
The latest GDP numbers indicate business investment is contracting sharply. Private sector capital expenditure on buildings, equipment, plant and machinery fell 5.2 per cent in the March quarter, contributing to a 15.4 per cent annual decline. While mining investment plunged a foreseeable 12 per cent in the quarter, the manufacturing sector, currently experiencing soft demand simply didn't have the confidence to invest in capital expenditure, also fell 10 per cent. Outside of mining and manufacturing, however, was a glimmer of hope with capital expenditure picking up 1.8 per cent but failed to contribute anything significant.
The latest CPI figures show a deflationary 0.2 per cent fall in consumer prices over the quarter including a "shock" 0.2 per cent decline in Food and non-alcoholic beverages. A statement on the monetary policy decision released by the reserve bank suggested the decision to lower the cash rate last month "follows information showing inflationary pressures are lower than expected." ('Australia joins club deflation, cuts cash rate.')
Further cuts are expected in the coming months as the Reserve bank endeavors to combat falling inflation.
It would be reasonable to expect, cutting interest rates in today's abnormally low cash rate will only reduce consumption, fuel housing and stock bubbles and increase debilitating household leverage. It's not hard to fathom how the Reserve Bank will lose control of the economy, if it hasn't already, resulting in the "dramatic and destabilising" demise of the Australian economy.
Excessively high household leverage and monetary policy mistakes will not be the only contributor.
Property developers and banks prepare for onset of apartment crash
In order to justify bubble prices, property spruikers had repeatedly shouted their call to action, Australia has a chronic shortage of homes. But like so many bubbles that have burst before, Australia now faces a growing oversupply.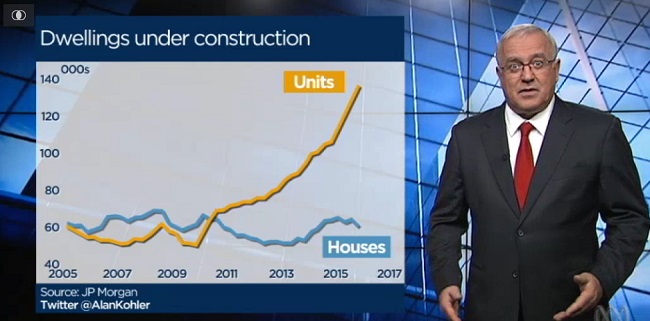 Australia's property frenzy and the fear of missing out has seen an unprecedented surge of apartment building along the east coast. It has now developed into an alarming supply overhang resulting with prices slumping.
According to the Australian Financial Review apartments in Melbourne's Docklands, Southbank and the CBD are reselling for up to 24 per cent less than their off the plan purchase price. A WBP Property Group Survey of 1,794 of-the-plan apartment purchases in Victoria from December 2009 to August 2015 found the average resale loss was 9.4 per cent.
The decline in apartment prices as oversupply balloons has seen banks tighten lending for apartment purchases. Macquarie bank now requires a 30 per cent deposit to purchase apartments in at-risk postcodes.
Lender Firstmac also requires a 30 per cent deposit, but has excluded rental income from serviceability tests due to the sheer number of empty rental apartments. Non-resident lending has been suspended for high density apartments, something Firstmac categorises as over 6 floors.
Insolvency specialists, PPB advisory are warning apartment developers to be prudent toward settlement risk.
"They need to ask themselves some simple questions about the purchaser – can I locate them, where do they live, what is their capacity to settle, are they a cash buyer or will they be seeking finance, who is their financier?"
"A complete due diligence of their purchasers will assist developers to mitigate settlement risk in the residential developments nearing completion."
$5 billion worth of residential developments got suspended in the week ending 27th May, according to the Australian Financial Review,
Another Australian Financial Review article suggests half of Sydney's suburbs face a housing oversupply. (Half of Sydney suburbs face housing oversupply; buyers agent)
Despite signs of cooling (pre RBA rate cut), the OECD recommends "close vigilance on housing-market developments is still required."
» New apartment resale prices tumbling in Melbourne – The Australian Financial Review, 27th May 2016.
» Lender Firstmac adds to squeeze on apartment borrowing – The Australian Financial Review, 27th May 2016.
» Risk and fear rise as failed apartment deals reach $5b – Australian Financial Review, 27th May 2016.
» Half of Sydney suburbs face housing oversupply; buyers agent – The Australian Financial Review, 31st May 2016.