Nine banks have today hiked interest rates, out-of-cycle, on regulators confirmation of a housing bubble.
On Monday, the Australian Securities and Investments Commission (ASIC) chairman Greg Medcraft remarked "I've been saying for a while I thought it was a bubble, other people are catching up now,"
The latest Australian Bureau of Statistics (ABS) data on mortgage growth shows more risky investor loans surging 4.2 per cent in January, bringing the annual total to a worrying 27.5 percent.
Macro-prudential controls introduced in early 2015 (APRA to keep banking crackdown secret) had worked its magic until the Reserve Bank blew it, slashing the official cash rate in May and August of 2016. One month later in September, investor mortgage growth had rebounded.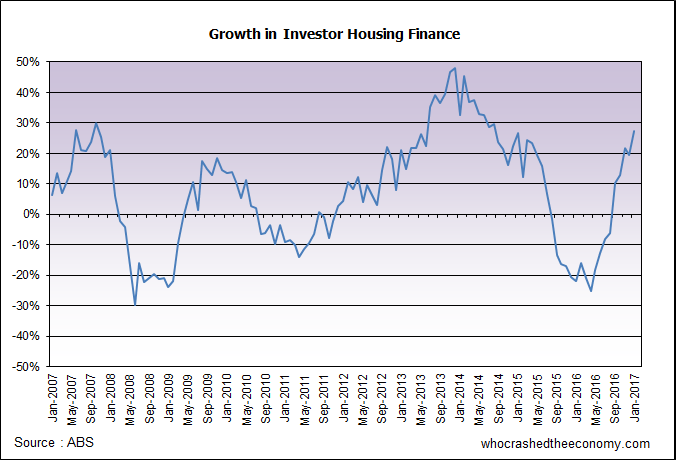 Admittingly, the Reserve Bank has learned its lesson. The most recent statement on monetary policy states, "Recent data continued to suggest that there had been a build-up of risks associated with the housing market."
"Borrowing for housing by investors had picked up over recent months and growth in household debt had been faster than that in household income."
The central bank's mistake has pushed it into a corner. It is now too risky to cut rates while the housing market runs red hot. And the rapid build up of household debt, means the market is now too indebted to hike rates.
The influx of investors into the rental market has been a win for renters, but has added significant additional risk. While investors each strive to become multi-property landlords, the steady supply of extra rental properties into the market have seen rental vacancy rates in some suburbs punch through ten percent and rental growth plunge to 22 year lows.
The increased vacancy rates are a risk for many investors, who rely on rental income to service their repayments. But the problem is about to get much, much worse.
Australia is in the grips of an unprecedented apartment construction boom. Over the next twelve to twenty-four months, a flood of apartments will hit the market.
The confirmation of the property bubble, now means debate can turn from the housing market to the stability of Australia's banking system. Australian households carry some of the highest level of household debt in the world, making an "unquestionably strong" banking system so much more of a challenge.
The council of Australian regulators, comprising of the Reserve Bank of Australia (RBA), the Australian Prudential Regulation Authority (APRA) and Australian Securities and Investments Commission (ASIC) are working on the next round of macro-prudential controls in response to the out of control 27.5 percent investor mortgage growth.
Banks must hold adequate loss absorbing capital (Common Equity Tier 1) based on the perceived risk of the loans they write (risk-weighted assets). Historically, both owner-occupier and investor loans for residential property have been lumped together and risk-weighted.
As the bubble evolves, Australian property investors are carrying ever increasing risks. Property investors have, over the last decade, traded yields for perpetual capital growth. When the market inevitably runs out of puff, it is unlikely investors will hold their properties with such poor rental returns. Doing so, in effect, they will be subsiding the living expenses of their tenants. Additionally, more and more investors are faced with the prospect of empty properties but are "materially dependent" on the rental income to service the mortgage.
Australia also has an extremely high portion of property investors on highly risky interest only loans, speculating on perpetual capital growth without paying down any principle.
It therefore makes perfect sense to categorise investor loans, especially interest-only, as much higher risk when contrasted to owner occupier loans. They are more likely to default.
Our four big banks currently have a minimum risk-weight for residential mortgages (both investor & owner-occupier) set at 25 per cent. Our remaining, "regulated" banks have a minimum of 35 per cent. It is believed regulators are mulling over increasing the minimum risk weights on investor loans to the region of 75 to 100 percent.
Increased risk-weightings on investor loans mean banks will have to hold significantly more extra loss absorbing capital. It will help make Australia's banking system "unquestionably strong", but will come at a cost to investors – a user pay system as such.
While regulators contemplate their next move, banks are already re-pricing those risky investor loans.
Last week, Westpac and NAB made the first move. Westpac nudged up owner-occupier (safer) mortgages by 8 basis points, and hit property investors with a 23 basis point hike for principal and interest loans and interest-only investor loans (high risk) with a 28 basis point hike. The NAB pushed owner-occupier loans up 7 basis points, and investor loans up 25 basis points.
Today the Commonwealth and ANZ followed suit. For property investors banking with the Commonwealth, this is the second rate hike in just six weeks, up 26 basis points. ANZ hit property investors with a 25 basis point rise, and the interest-only property investor with a 36 basis point rise.