Figures released today from the ABS show house prices in Australia has fallen a larger than expected 1.68 percent in the March quarter, recording the biggest fall since the global financial crisis. Economists had only expected a 0.5 percent fall.
Both Melbourne and Brisbane lead the change in fortune recording a -2.5 percent change. Sydney fell 1.8 percent, followed by Adelaide & Darwin both recording 1 percent falls each. Canberra lost 0.4 percent, while Hobart recorded gains of 0.4 percent and Perth 0.5 percent.
The ABS figures follow a release from RP Data-Rismark on Friday showing capital city house prices fell 2.1 percent across the nation, the biggest fall in 12 years according to their index.
The fall in house prices is not surprising given the fall in mortgage approvals which normally leads the market by about 6 months, and the winding back of government grants used to prop up the unsustainable market the last time it started to dive. Figures from the Reserve Bank of Australia show growth in housing credit is now trickling along at the slowest pace since the start of the RBA records in 1976, some 35 years ago.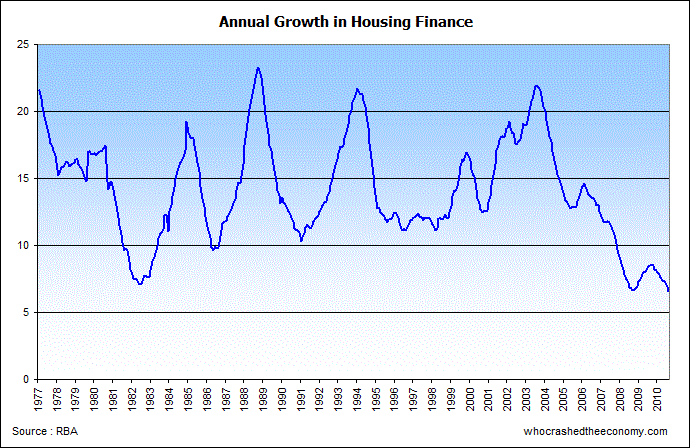 » 6416.0 – House Price Indexes: Eight Capital Cities, Mar 2011 – The Australian Bureau of Statistics, 2nd May 2011.
» RP Data-Rismark Hedonic Home Value Index, March Results – RP Data, 30th April 2011.
» Housing loan increase weakest in a generation – The Sydney Morning Herald, 29th April 2011.