With the housing market once again showing signs of cooling, there has been some debate in recent weeks surrounding the question of if the government will introduce a new first home owner's grant to prop up the market. So you can imagine the surprise we received today, when news broke that the Gillard Government has been discussing options to scale back negative gearing with senior labour figures and the unions. Any thought of a new grant to prop the market back up is now distant thought.
It is understood discussions have so far included the scaling back of negative gearing based on the number of properties owned, starting at investors with two or more properties. There are about 294,000 investors that hold more than two investment properties.
Naturally, any notion to abolish the immensely popular tax dodge will cause extreme political risk and voter backlash. In the 2009 financial year, 1.7 million property owners collectively made a $6.5 billion dollar net loss on their investment properties and claimed tax offsets. This is down slightly from the previous year where the a $8.6 billion dollar loss was made. The losses have been steady increasing since 2000 when the last positive net return was recorded.
Negative Gearing was first introduced to support the private residential tenancy market and help to encourage new home building for the purpose of rent. Over the years, the scheme has morphed into an instrument used by property speculators to help inflate house prices disproportional to rents causing over investment and economic distortion. Rental yields are now so low, that property as an investment no longer stacks up without the premise of large capital gains. This becomes a problem, such as is the case now. Housing affordability is now so stretched, there are few buyers in the market and most experts share the most optimistic view that the housing market will be flat for a couple of years. (The pessimistic view is, of course, a crash.) In effect, property investors are now subsidising renters with no prospect of capital gains for years to come while carrying the heighten risk that prices could fall, no different to that observed overseas.
Hardened investors immediately hit back today saying the removal of negative gearing will cause rents to skyrocket. However, there was little evidence of this in 1985 when the Hawke/Keating government effectively abolished negative gearing only to have it re-instated in 1987 after intense lobbying by the property industry. With such a claim, you would think Australia was the only country to not have negative gearing, but contrary, Australia is only one of three countries that allow the favourable tax offset on other income. All the other countries around the world can function without it.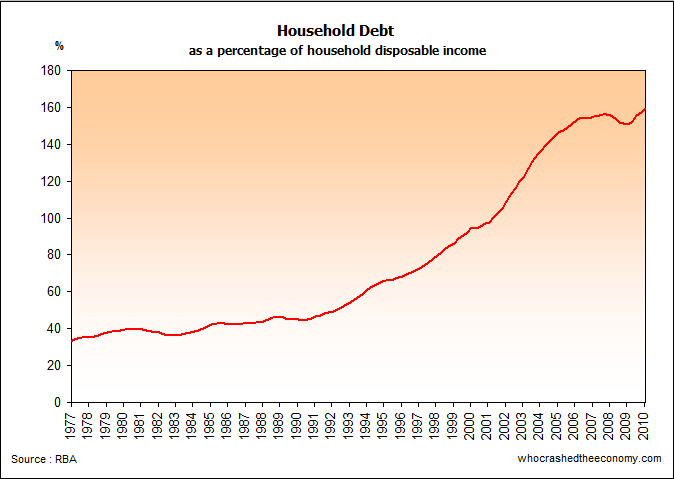 Throughout our decade long property bubble, house prices have appreciated faster than the buyer's ability to service them due to the availability of cheap and easy credit. As house prices rose, buyers simply borrowed more. This is most evident by the size of our household debt. Our household debt to household disposable income has quadrupled since the 1980s as home buyers are forced to borrow more and more. Renters, on the other hand do not have this "luxury" (burden?) – if rents rise faster than incomes, they cannot simply take out a bank loan to service the shortfall. Outside of the credit card, they must live within their means.
In a flat or falling market where negative gearing is effectively redundant, and when government budgets are tight and property investment losses huge, now is a good time to start winding down the rort. Wayne Swan warned of a difficult and unpopular budget. Maybe today's announcement is further conditioning in the lead up to budget night?
Currently the housing market is suffering from a lack of first home buyers, effectively being priced out of the ponzi scheme. Any uncertainly regarding the medium to long term existence of negative gearing is now sure to immediately dent demand from investors. Soon, there won't be that many players in the market. Any budget savings from the winding down of negative gearing is a much better alternative than re-instating 100% capital gains on investment properties in a slow and falling market.
Have your say – Do you think negative gearing should be retained in full, scaled back, or abolished?
» Talks test the water on negative gearing change – The Age, 21st April 2011.