According to the Australian Associated Press, Harry Dent has arrived in Australia today to promote his new book, "The Great Crash Ahead: Strategies for a World Turned Upside Down." Amazon suggests his book will be released on the 20th of September.
In promoting his book, Mr Dent has told AAP, he believes the world will enter a deeper downturn early to middle next year, originating from Europe and spreading to the U.S., China and eventually Australia. At the centre of the world wide debt crisis is, off course, Real Estate. This should sound quite familiar with readers here.
"People in places like Sydney or Tokyo or Miami say, 'Hey, real estate can never go down here, we're a great place, everyone wants to move here, there's not much land for development', and what I say is that is exactly the kind of place that bubbles," Mr dent told the AAP.
He believes Australia's house prices will return to levels seen in the late 1990's and early 2000. With house prices in Australia at giddy heights, such a prediction can be hard to stomach. But it's by no means far fetched. The United States has just done this as our readers will know from a post published early last month :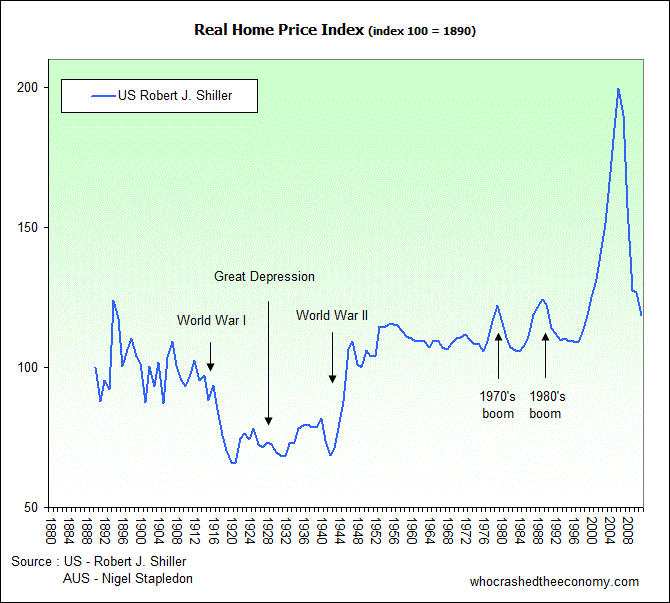 Now this is Australia's housing market overlaid on the same graph. As our market grew just a teeny bit more thanks, in part, to Kevin's First Home Vendors' Boost in 2008, we had to rescale the graph :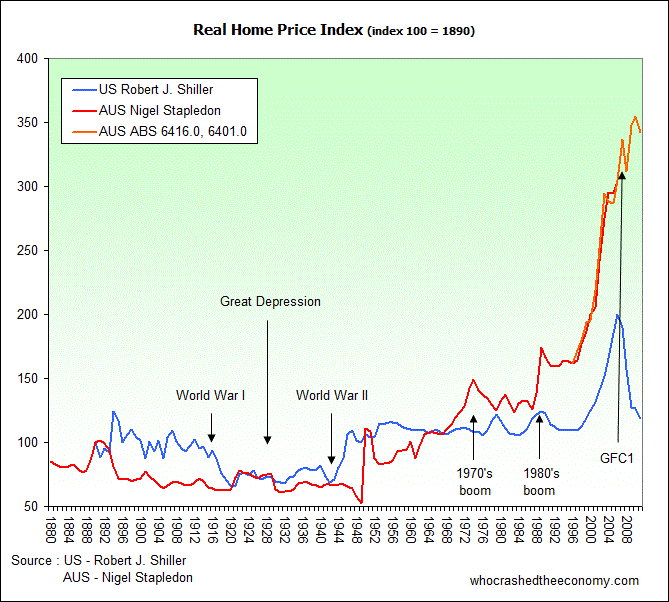 » Tsunami to hit Australian real estate – AdelaideNow, 11th September 2011.
» Tsunami to hit Australian real estate – Sydney Morning Herald, 11th September 2011.