Mortgage insurer Genworth Financial yesterday released its September Homebuyer Confidence Index showing the number of Australian's with mortgage stress in Australia has jumped to 25 percent and is now at unprecedented heights, even exceeding levels experienced during the Global Financial Crisis.
With this in mind, is it better to rent or buy?
Earlier this week Sunrise asked the question of Chris Richardson from Deloitte Access Economics. Chris believes "housing prices had done so well for so long" and "given that the costs of buying a home has risen so much more than rents in the last decade or so, and, a really remarkable gap there" it is time to rent and put your money in other investments such as shares. When questioned if shares were volatile, he reminds viewers that like shares, property does go up and down over time.
After the segment, Mel reads out a quick tweet received – "Renting is buying, you are just buying it for the person on the mortgage." On the flip side, the same could be said for buying, you are just renting it from the bank. If you default on payments, you can loose your home – You don't own it until it's fully paid off and the title is in your name.
For decades prior to the late 1990's, house prices and rents tracked inflation. With cheap and easy credit in the early 2000's house prices started to lift off, and as Chris rightly points out there is quite a remarkable gap between house price and rent inflation today (See chart above). Rents started to deviate away from inflation in 2007, but as rents are paid from wages and not borrowed (cheap and easy credit), there is little scope for rents to take off and are once again tracking inflation. According to Australians for Affordable Housing (AAH)'s spokesperson Sarah Toohey, some 740,000 renters have reported significant financial stress. If rents go up faster than wage inflation, renters will have no choice but to consolidate, leaving landlords with vacant premises and a vacancy rate trending skywards.
Chris is right to say that "housing prices had done so well for so long" as per the graph below. He is also right to say house prices can go down, as demonstrated in the United States (blue line).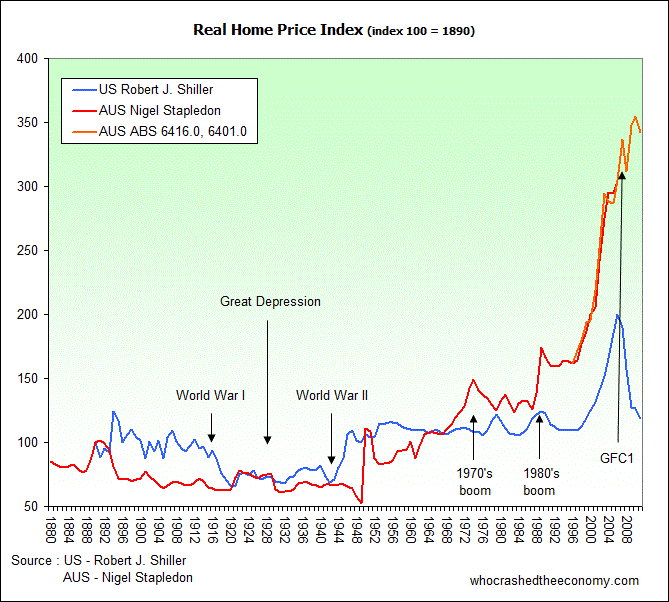 According to RP data statistics, national house prices in Australia has been falling for 7 consecutive months. In some of the mining states, the falls are deeper and have been occurring for a longer period. Last month, Melbourne's Herald Sun reported "Melbourne's median house price has lost more than $800 a week since the property market peaked late last year." $800 a week is a lot of rent money. Is it better if your speculating landlord loses it, than you?
But if it turns out Australia is not different and does follows in the footsteps of the rest of the world, then leveraging yourself into an asset bubble today could be financial suicide.
As Chris says there is "No need to rush from going from renting to buying."
What is your opinion? Is it better to rent or buy in this market? If you are renting, are you saving the difference and if so, where have you parked your savings?
» Buy vs Rent – Which will make you richer? – Sunrise,
» Mortgage stress rises to all-time high – The Sydney Morning Herald, 22nd September 2011.
» Less Affordable Australian Housing: A Crisis – International Business Times, 19th September 2011.