Rate cuts by the Reserve Bank of Australia (RBA) in November and December 2011 has done nothing to restore confidence to the housing market with the official Australian Bureau of Statistics (ABS) House Price Indexes released today showing house prices in Australia continue to fall, clocking up five consecutive quarterly price declines. In the March quarter, the weighted average of established house prices in Australia's eight capital cities fell 1.1 percent and for the twelve months to March, prices have fallen 4.5 percent.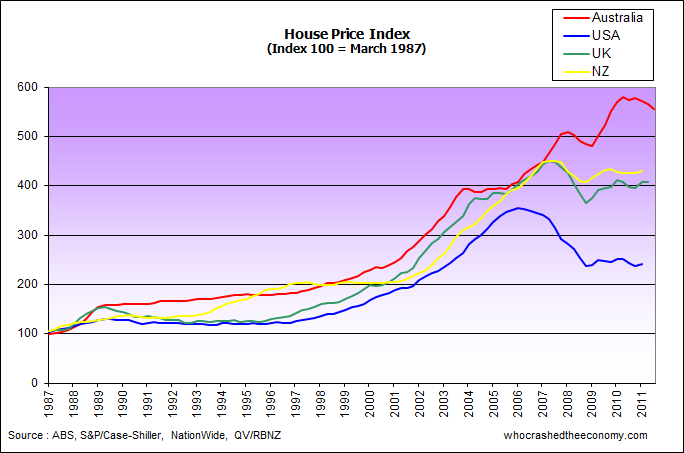 After a bad CPI figure last week, the RBA has slashed the official cash rate today by 50 basis points to 3.75%. Even if the majority of Australian banks choose to pass the cut onto mortgage holders, this cut, like cuts in November and December is expected to provide little to no support to Australia's housing market buckling under the pressure of high household debt. Just yesterday, the RBA released housing credit statistics showing housing credit growth is at the lowest rate since records started 35 years ago. With housing credit growth this low, Australia's housing bubble could be on borrowed time.
» 6416.0 – House Price Indexes: Eight Capital Cities, Mar 2012, Australian Bureau of Statistics – 1st May 2012.
» Australian House Prices down 10% from Peak – Steve Keen's Debtwatch, 1st May 2012.
» Confidence the missing ingredient – The Sydney Morning Herald, 1st May 2012.