Generation Y, Kev wants you on board.
During Kevin Rudd's comeback leadership victory speech he had a message for our young generation:
Before I conclude, let me say a word or two to young Australians.

It's clear that many of you, in fact too many of you have looked at our political system and the parliament in recent years and not liked or respected much of what you seen.

In fact as I rock around the place talking to my own kids, they see it as a huge national turn-off.

Well, I understand why you've switched off; It's hardly a surprise.

But I want to ask you to please come back and listen afresh.

It is really important that we get you engaged, in any way we can.

We need you, we need your energy, we need your ideas, we need your enthusiasm, and we need you to support us in the great challenges that lie ahead for the country.

And with your energy, we can start cooking with gas.

The challenges are great, but if we are positive and come together as a nation we can overcome each and every one of them.
After 22 years of consecutive growth fuelled by unsustainable fiscal "prop-ups" and distortions, the current generation is faced with an unattainable housing dream and an uncertain future. To put those 22 years in perceptive, Professor Ross Garnaut says "Between the recession of 1990-91 and now, mid-2013, Australians have enjoyed the longest period of economic expansion unbroken by recession of any developed country ever."
Distortions from our home grown housing bubble and the record levels of household debt currently present in Australia has spilled over into the broader economy. When combined with the end of the mining boom, it is causing youth unemployment to sky-rocket. For the first time in decades, this generation is starting to struggle to get a job, let alone provide their own shelter – something even Generation X struggles with today. And with both sides of politics continuing to pursue any avenue possible to keep our miracle economy from collapse and expanding for yet another consecutive year, it's no surprise our younger generation is disillusioned in the system.
Without government intervention, there is little doubt the Australian housing market would have collapsed in 2008 in parallel with other over extended housing markets around the globe. At the time, The Courier Mail reported "STRESSED home owners and investors are flooding the market with thousands of houses but agents say they can't find any serious buyers for some properties." The number of homes listed for sale was surging. Prices were falling.
First Home Owners' Boost
This trend remarkably reversed when a month after Lehman Brothers filed for bankruptcy and among the backdrop of a global "systemic meltdown" caused by irresponsible lending and excessive household debt levels, Prime Minister Kevin Rudd announced the First Home Owner Boost (FHOB). For first home buyers purchasing an existing dwelling, the FHOB was a $7,000 "boost" to the existing $7,000 first home buyers grant first introduced on the 1st July 2000 to offset the GST. To help stimulate new residential building, first time buyers building a new home would get an extra $14,000 boost.
The rumour mill contains unverified reports suggesting the 2008 stimulus package prepared by Treasury to combat the GFC didn't include a First Home Owners' Boost. Rather, Treasury had proposed more prudent saving through the First Home Saver Account (FHSA). If the reports are right, it was our Politicians that dreamed up and implemented this gem called the 'Boost'.
These rumours do bode well with Treasury Executive Minutes stating "The FHOB was announced 14 days after the FHSAs became available as part of the Government's first stimulus package designed to counter the effects of the global financial crisis. This short-term stimulus was designed to encourage people who had already been saving for a home to bring forward their purchase and prevent the collapse of the housing market. Contrary to this measure, the FHSA is designed to encourage saving over the medium to long term."
And to bring forward purchases, it did. By October 2009, 190 thousand first home buyers buckled under the temptation of free money, and took up the offer. A small portion went through the agony of losing their homes in the years that pursued. The lure of free money and no appreciation for the size and serviceability of today's mortgage was far too great.
Open the Foreign Floodgates!
At the time of the GFC, Australian household's carried more household debt as a percentage of household disposable income than their American household counterparts. To cover all bases and ensure there wasn't a devastating collapse of the housing market like in the United States, the government also "streamlined" the administrative requirements for the Foreign Investment Review Board (FIRB). As part of these changes, temporary residents (e.g. Chinese) could purchase Real Estate in Australia without having to report or gain approval from the FIRB in a bid to help support the market. It was sold to the Australian public as allowing the FIRB to concentrate on larger issues in the 'National Interest'.
By March 2010, the media was flooded with articles (Australia for Sale) on Australian's being outbid by an army of Chinese residents, effectively pricing Australian's out of their own housing market. But the 'streamlining of administrative requirements' actually meant no records were kept, or more specifically it would seem that these foreign temporary residents no longer needed to lodge applications with the FIRB. There was public outcry and no real data to support just how big or small this issue actually was.
The outcry had grown so intense, that on the 24th April 2010 the government buckled and a tightening of foreign investment rules relating to residential property was announced, complete with a package of new civil penalties, compliance, monitoring and enforcement measures. The government even went to lengths to set up a 1800 hot-line for residents to report suspicious property buyers and help calm an outraged public.
The press release by the former Assistant Treasurer, Nick Sherry said "The Rudd Government is acting to make sure that investment in Australian real estate by temporary residents and foreign non-residents, is within the law, meets community expectations and doesn't place pressure on housing availability for Australians."
Kev's Property Portfolio
Five years on, the unsustainable stimulus measures implemented in 2008 is wearing thin. Credit growth for mortgages is at near 37 year lows despite interest rates sitting at 53 year lows. Gaping cracks are now starting to appear in the China miracle and the "mining boom is over" according to Rudd. Many metrics now have the economy in a worst position than during the depths of the GFC.
And Rudd is now back as Prime Minister.
For the shafted generation, already disillusioned by Australian politics, it begs the question, what surprise now? What can be pulled out of the hat?
Their concerns are not unwarranted when on Tuesday, News Limited publishes a story titled, "Rudd's luxury property portfolio miles from Struggle Street"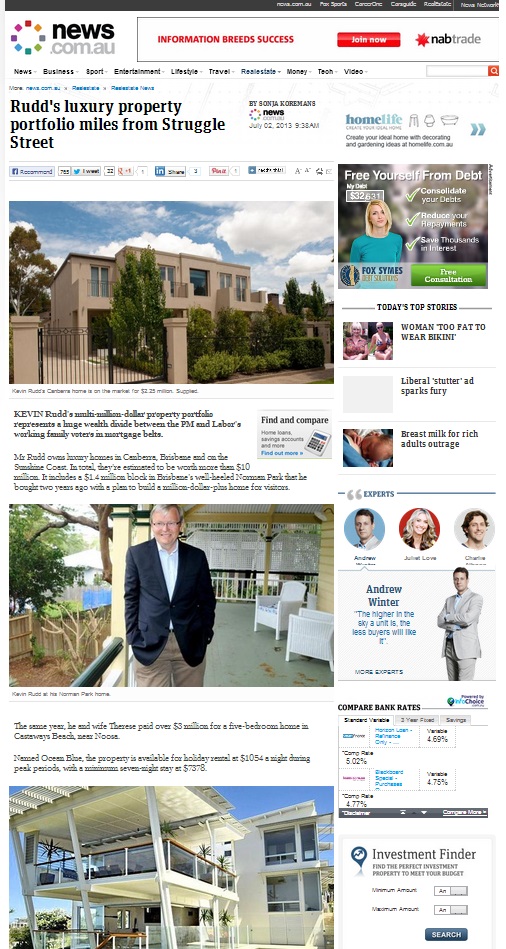 With a $10 million dollar portfolio of homes in Canberra, Brisbane and on the Sunshine Coast, can Rudd really be trusted to make decisions in the best interests of Australia?
Or more precisely, how soon before the next housing stimulus package will be announced? How big can this bubble get?
Howard & Costello
But, Rudd can't be given the credit for creating or nurturing Australia's housing boom, only for pulling out every stop possible to save it. Rudd had in fact inherited a housing bubble "too big to fail", when Labour rose to power in November 2007.
The Liberal's Howard and Costello had more to do with creating the housing bubble.
Only last weekend, Former Prime Minister John Howard was rallying Liberal constituents in a Coalition rally at the Melbourne showgrounds. He told loyal supporters, he had left the economy to Labour in 2007 with no net debt.
But the same can't be said for household balance sheets.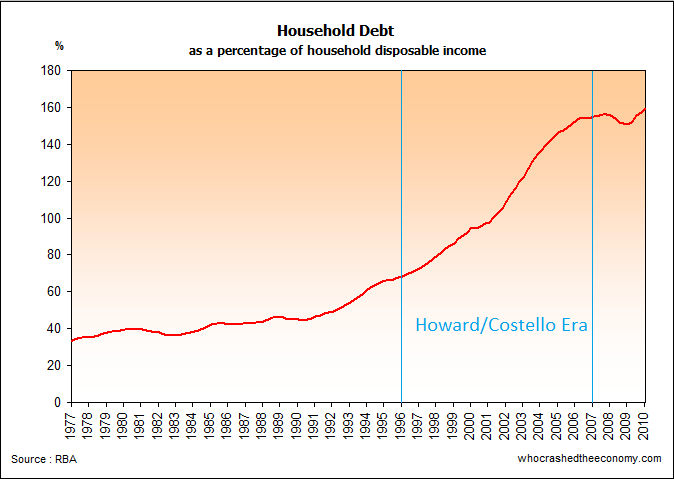 While Howard and Costello had the reins of the Australian economy, household's packed on significant amounts of household debt. Some of the drivers was poor policy such as the 50 per cent capital gains discounts which when used in conjunction with negative gearing, really started to fuel speculation in housing markets. Other poor policy could include change of legislation to enable self managed super funds to leverage into the housing bubble.


www.nicholsoncartoons.com.au – 25th Sep 2002
But Australia wasn't the only country in the world to experience a significant housing bubble caused by an abundance of cheap credit, hence some of the blame should sit with Howard and Costello's failure to act on the household debt problem. And have a feel for our regulators, trying to instil sanity and protect the public from irrational government decisions. ASIC is currently overwhelmed with rouge "super" spruikers encouraging SMSF to speculate in leveraged property. Last month, one insider told ABC's The Business, it's a "ticking timebomb."
The bigger the bubble gets, the harder it becomes to pilot a soft landing. By the time Rudd inherited the housing bubble, it was too big to fail. And when Lehman Brother's collapsed, Rudd pretended everything was a-okay domestically – "As Prime Minister I will not sit idly by and watch Australian households suffer the worst effects of a global crisis we did not create."
It's no wonder younger generations have given up on politics. Can you really blame them?
» Rudd's luxury property portfolio miles from Struggle Street – News Limited, 2nd July 2013.
» The stampede into property by self managed super funds is a risky business – The ABC, 17th June 2013.