News Limited is generally considered to have a pro housing slant, but today it has printed a series of articles suggesting housing affordability is the top issue facing voters in this year's election.
"HOUSING affordability is a burning issue for Australian voters – more important than border security, broadband and even education" reports Jacson Gothe-Snape.
The claim is backed-up by research conducted by Auspoll showing 84 per cent of Australians believe housing affordability is more important than education (82%), border security (78%) and 'fast, affordable broadband' (68%). It is unclear what the sample size and methodology of the Auspoll survey is.
Two weeks ago Who Crashed The Economy reported on the poor policy both the Howard and Rudd governments have implemented over a decade to create and then keep our housing bubble from collapse. ('PM appeals in vain to the shafted generation').
Comments to the article suggest those effected need to get more political and have their voice heard. Even Baby Boomer Khol said "We need to get political!!"
David Stolper, Senior Research Partner at Auspoll said "People are angry and frustrated by the lack of affordable housing but surprisingly this anger has yet to be directed at our political leaders, This disconnect is puzzling given the options for the Federal Government to improve the situation by coordinating land supply and incentivising the development of new homes".
The trouble is when you talk to any politician about housing affordability, they want to fix the problem with a bigger grant. (Is this New's Limited's motive, knowing Rudd is back in town?)
The deeper issue is a housing bubble and banking system too big to fail. Implementing any affordable housing policy that doesn't further distort an already over extended market could cause our economy to nose dive in to a significant recession.
Only today, ratings agency Moody's has warned our big four banks have the highest exposure to residential mortgages than any peers in other developed countries it has studied, making our banking system vulnerable to a US style collapse if a significant house price correction were to occur.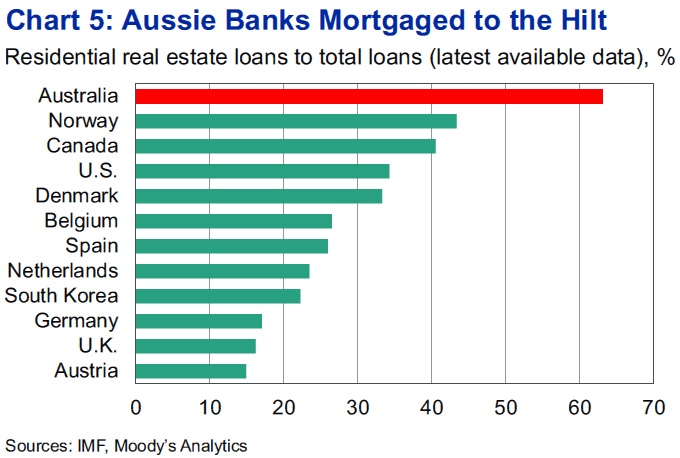 Tony Hughes of Moody's Analytics told the Australian Financial Review today, "Irrespective of the complacency of local analysts, who sound a lot like many US housing cheerleaders circa 2006, this exposure represents a major concentration risk for banks and the Aussie economy. Houses appear to be overvalued. One merely hopes that the looming correction is a smooth one."
"The high degree of exposure to the domestic mortgage market raises many concerns. Recent experience has shown that house prices can fall significantly and trigger serious banking meltdowns."
Moody's warning today follows similar concerns raised by the International Monetary Fund (IMF) in November last year. ('Too big to fail')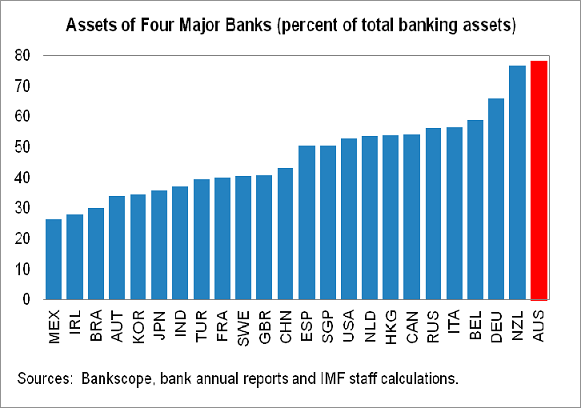 At the time it reported, Australia's four major banks, The ANZ, Commonwealth, Westpac and NAB hold 80 per cent of the countries banking assets and 88 per cent of residential mortgages. Such dominance in the market, each with similar business models and reliance on overseas funding would leave the majority of Australia's banking sector exposed to common shocks. "The combination of high household debt and elevated house prices is a risk to banks' large mortgage portfolio."
» Voters want Federal Government response to housing affordability – News Limited, 15th July 2013.
» Banks vulnerable to housing collapse – The Australian Financial Review, 15th July 2013.
» MOODY'S: Australian Banks Are Too Exposed To An 'Overvalued' Housing Market – Business Insider Australia, 15th July 2013.
» Here's The Chart That Moody's Says Could Be A Sign Of An Australian Housing Bubble – Business Insider Australia, 15th July 2013.
» Too big to fail – International Monetary Fund (IMF) warning on our banks exposure to the housing bubble – Who Crashed The Economy, 18th November 2012.