On Sunday, the Bank for International Settlements (BIS) released residential property price statistics for most developed countries around the world – ('Australians struggle with world's second largest housing bubble'). The data confirms Australia has the second most overvalued residential property market in the world, second only to Norway. The data, collected at the start of this year, shows on a price to rent metric, Australian residential property prices were 50 percent overvalued. On an income to rent metric, Australian house prices were 40 percent overvalued. House prices have appreciated significantly since the survey was done.
One of our readers, Alex, asked if there were a similar report comparing capital cities of Australia?
Here it is for the June 2014 quarter: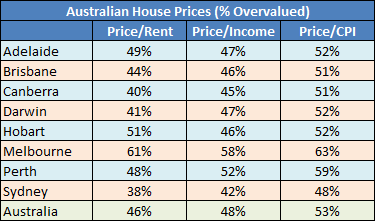 Notes:
We have indexed the data to 1997, a period of stable house price growth (research shows long term house prices only rise by inflation). Note income is derived from a single wage – the ABS Wage Price Index – total hourly rates of pay excluding bonuses and is not household disposable income.
A price to CPI ratio (real house price) has been included. There is evidence both rents and incomes are inflated. Rents started to rise faster than inflation after the financial crisis, but with the significant influx of investors in the market at present (investors accounted for a record 49.7 per cent of total loans in July), rents are now contracting and will likely further exacerbate over-valuations. The same can be said for wages, with wage growth and household disposable incomes coming under pressure.
The over-valuations assume a healthy, stable market (like in 1997). If the economy were to deteriorate, larger falls could be expected.