Australia is now in the grip of the largest terms of trade collapse since records started in 1959, unleashing havoc on Federal budgets that will ultimately flow through to wages and household balance sheets.
The terms of trade is an index calculated by the Australian Bureau of Statistics (ABS) showing the relative ratio between export to import prices. A fall in the terms of trade indicate Australia needs to export more to maintain the same level of imports – making Australia economically worse off.
The price for Australia's number one export, iron ore continues to fall with prices down 46 percent in the 12 months to November. Since the peak in February 2011, prices have collapsed just over 60 percent. The fall in the iron ore price is due to a slowing in China's fixed asset investment due to over building.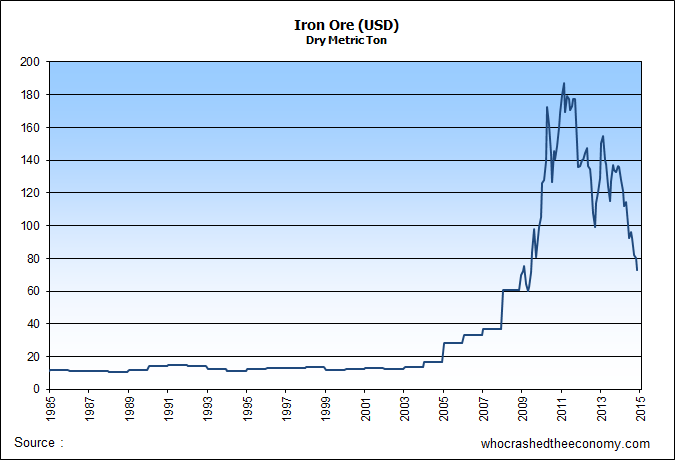 Australia's other major exports such as coal and wheat has also experienced significant falls.
Our commodities boom has seen Australians enjoy the second fastest wage growth of any developed economy over the past 13 years, according to the OECD. Data from the International Labour Organisation show Australian wages grew the most of any G20 nation between 2007 and 2013.
But times are changing.
The latest ABS wage price index (WPI) shows total hourly rates of pay excluding bonuses remains subdue, rising just 2.57 percent in the past year. This is the lowest growth since the series started in 1997.
» Falling wages to upset household debt dynamics – Who Crashed the Economy, 30th May 2014.
» Beijing housing sales falls 35% – Iron Ore falls through $90 – Who Crashed the economy, 17th June 2014.
» Real wages start to fall – Who Crashed the Economy, 19th February 2014.
» GFC2 – Will it be made in China? – Who Crashed the Economy, 30th June 2013.