Sydney and Melbourne residential property markets could already be in a bubble according to the chief of Australia's Investment and Securities regulator. Talking to the Australian Financial Review this week, ASIC Chairman Greg Medcraft said "History shows that people don't know when they are in a bubble until it's over" warning, in particular, that many Self-Managed Super Funds (SMSFs) could be exposed to a conceivable correction.
For most economists examining housing finance figures, this comes as no surprise. Recent data from the Australian Bureau of Statistics (ABS) show value agnostic investors have been piling into the Sydney and Melbourne market like no tomorrow, and as rents continue to fall.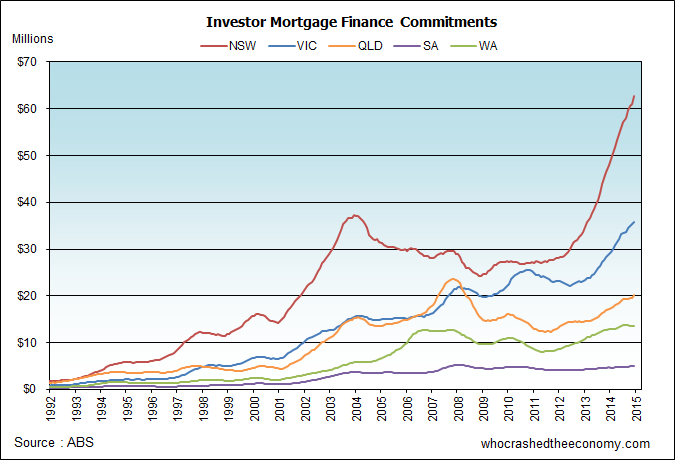 Medcraft's warning for SMSFs won't come as a surprise to the National Australia Bank (NAB) either. The NAB quietly exited lending to self-managed superannuation funds early this month. With limited recourse borrowing, the risks were just too great. According to a report in the Australian, a NAB spokesperson declined to comment, outside of a statement saying the bank is "constantly assessing its product offering through our risk appetite and the broader regulatory environment."
ANZ has indicated it has no exposure to SMSFs.
Activity below the radar
Fears of a housing correction impacting the stability of Australia's banking system has forced the banking regulator to secretly act. As we reported in March ('APRA to keep banking crackdown secret') the chairman of the Australian Prudential Regulation Authority, Mr Wayne Byres said the regulator was unlikely to ever disclose what capital controls it will impose on individual banks who do not exercise prudence. He told the house economic's committee:
Prudential regulators are traditionally the people who try to operate behind the scenes—below the surface, below the radar. Financial institutions survive and thrive because they have confidence and the community has confidence in them, and you are happy to put your money into the bank, you are happy to take out your insurance policy and you are happy to invest your superannuation money because you have confidence that, when the time comes, you will get your deposit back, your policy will be paid and your super money will be there.

Unfortunately no institution is perfect, and sometimes issues arise. Prudential regulators tend to try to operate behind the scenes to get issues fixed and to avoid them becoming a source of concern to the community. If we can do that well and head off problems before they become serious problems, that is actually reinforcing of financial stability, because it is preserving the confidence that exists in the system.
The Reserve Bank of Australia (chair of the council of financial regulators) had been waiting on the many proposed macro-prudential controls to be implemented before it further slashed the cash rate, at the risk of fuelling the credit fuelled asset bubbles. On the eve of the rate cut this month, Westpac announced conformance with APRA requests. The bank said it would apply stricter loan serviceability tests to new property investor loans and tighten lending to foreign investors.
While the industry is tight lipped and potentially overwhelmed about all the new lending restrictions, brokers have indicated the National Bank, Commonwealth and Westpac have all removed package discounts to investors and tightened serviceability requirements. Negative gearing tax flows have been removed from serviceability requirements. Assumptions on rental incomes have been slashed.
Brokers also report two of the major banks have slashed maximum loan value ratios (LVR) for loans to non-residents from 80 to 70 per cent.
Bank recapitalisation begins in earnest
We reported last year ('Have the Big 4 just flunked APRA's stress test?') and ('Australian banks not the safest in the world – far from it.') that there has been growing concern about the lack of loss absorbing capital our big 4 "advanced" banks hold.
Two weeks ago, NAB went to the market, cap in hand, to raise $5.5 billion, one of the largest capital raising in history. $3.4 billion will be sunk into the troubled Clydesale Bank in the United Kingdom, leaving a spare $1.5 billion left over to bolster the balance sheet back home.
Westpac on the other hand has announced plans to raise an additional $2 billion capital through a dividend reinvestment scheme.
CLSA's bank analyst Brian Johnson has suggested the big four require an injection of more than $41 billion in additional capital over the next coming years. According to his estimates, CBA will need $13 billion, ANZ $11.9 billion, Westpac $11 billion and NAB $5.1 billion.
Banking stocks officially in correction
News that our banks will need extra capital injections, and with the outlook of further super profits diminishing among a challenging regulatory environment and potential property bubble, has caused a plunge in the bank's share prices.
Since the peak only weeks ago, ANZ's share price is now down 14.1 per cent, CBA down 14.3 per cent, WBC down 19.4 per cent and NAB down 14.0 percent.
» NAB exits property loans for SMSFs – The Australia, 6th May 2015.
» Investor home loans tighten as regulator APRA clamps down – The ABC, 18th May 2015.
» Big four banks hit iceberg after APRA's Wayne Byres talks mortgage risk weights – The AFR, 1st May 2015.
» Westpac dividend reinvestment to boost tier 1 capital ratio – The Sydney Morning Herald, 4th May 2015.