According to China's National Bureau of Statistics, real estate inventory reached 686 million square meters at the end of October, up 18 per cent from a year earlier. With the average size of an urban Chinese home 60sqm, this represents an excess of approximately 11 million unsold homes.
At the height of the GFC, Beijing instructed local governments to invest heavily in infrastructure. Unable to borrow, local governments set up LGFVs (Local Government Finance Vehicles) to invest in fixed assets and in many cases SoEs (State Owned Enterprises) to build them. The majority of the stimulus was sunk into building new cities that the western world argue lie mostly empty.
Not surprisingly, the unsustainable residential construction boom entered a downturn in 2014 with weak demand and burdening oversupply, and has failed to recover in 2015 despite the central bank cutting benchmark interest rates five times and slashing banks' reserve ratios.
Land sales represent a large chunk of local government fiscal revenue and has plummeted 32% in the first 8 months of 2015. Many local municipalities need land sales to remain solvent.
The challenge on what to do with the vast number of new, empty homes was a topic for discussion at the three day Central Economic Working Conference, held in December.
Following the conference, it was announced rural residents relocating to urban areas will be able to register as city residents, allowing them to either purchase or rent property. China has a household registration system more commonly known as "hukou" that prevents migrant workers from purchasing property in urban areas. The government also plans to launch a low-rent public housing program, and to support rental enterprises.
Analysts are skeptical the move will fuel sufficient demand to fend of a crisis. Migrant workers simply don't make enough to afford China's exuberant urban house prices, let alone rent them.
The 11 million new unsold homes, don't include the many, many more that are considered "commodity homes". In 2010, a report indicated there were 64.5 million urban electricity meters that recorded zero electricity consumption over a 6 month period. In 2014, a survey from China's Southwestern University of Finance and Economics found as many as 1 in 5 homes, or 49 million, in China's urban areas are sold, but vacant. Outstanding mortgages on these vacant loans total 4.2 trillion yuan, according to the University.
As property prices have only gone up in this relatively new economy, citizens purchase empty homes as an investment or store of wealth. Many are concrete shells, that the buyer will need to fit out at a later date. Malcolm Turnbull wrote in an article for the Sydney Morning Herald in June 2010, One property analyst was very candid when asked why there were so many apparently unoccupied flats in Beijing as there were no lights on at night: "The flats are occupied. Cash is living there."
Other homes are brought for the future, be that for their children or retirement. Some are even brought as a means to launder money. Its also been suggested that land sales are a boom for local governments, but people moving in is a burden as it starts to cost local government operating costs such as public transport and waste management. For this reason, there is an incentive to keep cities empty for as long as possible.
Turnbull went on to write:
Asset bubbles are like a Ponzi scheme – everything is fine until the cash dries up and asset prices stop rising. Like it or not we are exposed to the Chinese property bubble. The iron ore China buys from Australia is turned into steel, and most of that goes into building apartments and infrastructure. Our bauxite and alumina exports are turned into aluminium, of which about 40 per cent goes into construction in China.

So at the same time as we congratulate ourselves on escaping from the consequences of the property bust in the United States, the resources boom that underpinned our strong economic performance is itself based on another debt-fuelled property boom in China.
Iron ore
The Chinese construction sector is the biggest consumer of industrial metal. The slowdown in the past two years has reaped havoc for commodity prices, none more than Australia's largest export, iron ore.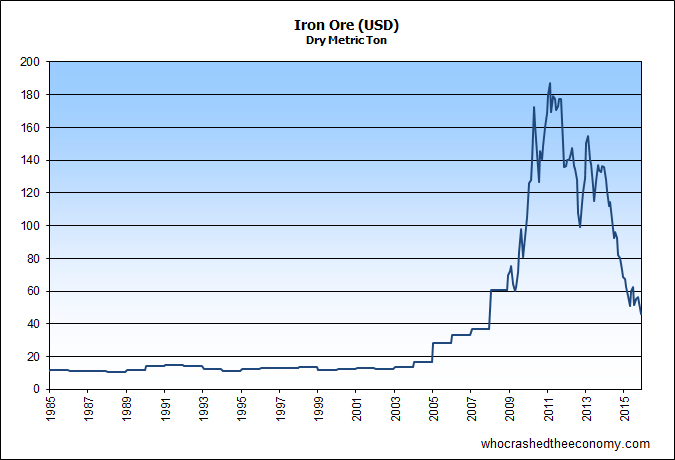 The latest Resources and Energy Quarterly from the Office of the Chief Economist, Department of Industry, Innovation and Science reports:
China's steel consumption is estimated to have fallen by 3.5 per cent in 2015 to 714 million tonnes, following a fall of 3.3 per cent in 2014. China's steel consumption has been heavily affected by weakness in residential construction, following a rapid increase in housing supply over the past few years. The China Academy of Social Sciences estimates there are nearly 18 million unsold apartments across China.
Given the lacklustre performance of the housing sector through 2015 and the significant amount of housing inventory still to be cleared, residential construction is not expected to be a significant driver of China's steel consumption in 2016.
According to the report, the Department has downgraded the iron ore price for 2016 to $US41.30 a tonne.
In recent days the iron ore price has made a comeback, but analysts are confident it will be short lived. Chinese domestic buyers are bringing forward some purchases prior to seasonal supply decreases in January and February.
A poll conducted by Reuters, suggests iron ore could fall below $US30 a tonne in the next few months, forcing high cost producers to the wall.
» Chinese debt binge is fuelling a dangerous property bubble – The SMH (Malcolm Turnbull), 16th June 2010.
» Resources and Energy Quarterly, December 2015 – Office of the Chief Economist, Department of Industry, Innovation and Science, December 2015.
» China to destock housing inventory – Xinhua News Agency, 21st December 2015.
» China to destock housing inventory: key meeting – China Daily, 21st December 2015.
» China unveils new policies to help farmers buy homes in smaller cities – South China Morning Post, 10th December 2015.