2016 is set to bring more pain for Perth property punters as prices continue to fall on the back of diving commodity and energy prices, rising unemployment, stagnant wage growth, surging vacancy rates and plunging rents.
With more mines destined for care and maintenance resulting in more job losses and pay cuts forecast this year, there are no signs of bottoming for the troubled property market.
The state government's mid-year review in December disclosed a blowout in the state budget deficit to $3.1 billion by the end of the financial year, attributed to slumping GST revenue, declining mining royalties and a collapse of business investment capex.
WA Treasurer Dr Mike Nahan said "Put that into context, that's the biggest revenue shock government, state or federal, has experienced in Australia since the Great Depression of the 1930s."
Immediately following the mid-year update, the government enacted a recruitment freeze, with the only exception, police and teachers. Yesterday, WA Health Minister Kim Hames confirmed 1,163 full time equivalent positions would need to go in the Health Service in the coming months.
The latest Australian Bureau of Statistics labour force data for the month of November, reported a 13-year high jobless rate of 6.6 per cent for WA.
According to SQM Research, the rental vacancy rate for Perth is now 3.9 per cent in November, up from sub 1 per cent just three years ago. The rising vacancy rate has been a joy for renters who have seen rents fall 8.5 per cent for houses and 8.1 per cent for units over the past year.
Realmark executive director John Percudani told News Limited, "Vacancy rates have been enormous and rental adjustments have been huge and that's because so much of the stock has flown into the rental market at a time when the market is obviously diminished, people who weren't able to sell for the price they wanted moved their homes into the rental market"
Accurate statistics on residential property prices are hard to come by. The ABS show prices have fallen 3.41 per cent in the June and September quarters. More timely data from RP Data suggest prices have fallen 4.9 per cent and outgoing National Australia Bank chairman, Michael Chaney, has been quoted for saying "The housing market here has fallen almost 10 per cent in the last year and is pretty soft."
But nowhere has the pain been more felt than in the mining towns.
Investors who didn't get the memo that the surge in many commodity prices were based on a temporary, but significant mis-allocation of capital in China, naively sent property prices in mining towns into the Stratosphere. They are now licking their wounds.
Data compiled by SQM Research show house prices in Northern WA is down another 21.6 per cent last year, bringing the three year decline to 35.5 percent. Unit prices are down 19.0 per cent for the past year, or 34.0 per cent for the past three years.
Rapidly falling prices are not the only worries of landlords in Northern WA. Plunging rents, and high vacancies are making it difficult to repay loans taken out at the top of the bubble.
Rents for homes in the area are down 38.5 per cent for the year, and 63.1 per cent over the past three years. If you can find a tenant for your unit, asking prices are now 26.2 per cent cheaper than a year ago and 59.6 per cent than three years ago.
And remember the 1960s three-bedroom, one-bathroom fibro and iron house the ABC reported was brought for $1.3 million in 2011? The article, published in February last year, stated it was passed in at auction $360,000 and later relisted for $590,000. We can now report realestate.com.au indicates it is under offer for an undisclosed price. SQM reports Port Hedland house prices are down another 13.9 per cent last year and 40.0 per cent over the past three. Let's hope the finance doesn't fall though and the investor can finally put this nightmare loss to bed.
Economists who study housing bubbles and long term price trends have found, logically, house prices generally do not appreciate faster than household income, or the ability to service the mortgage/debt. In comparing markets, they often compare the change in the ratio of house prices to income and house prices to rents. In a normally functioning market, both should rise at roughly the same rate and should be flat, like in the case pre-bubble 2001. Once the bubble bursts, these ratios generally return to mean.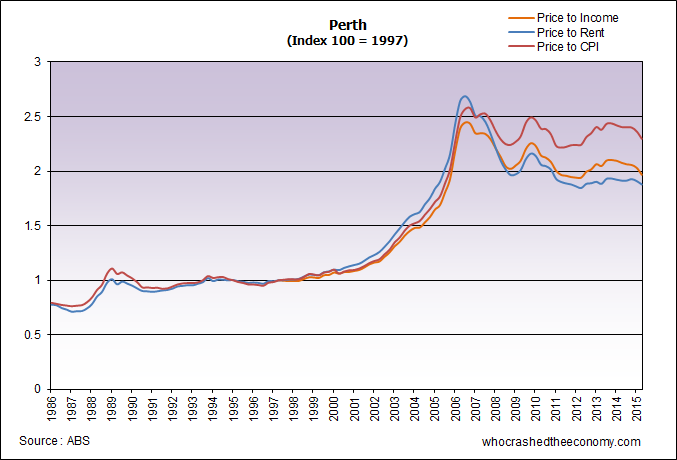 Based on this, it could be concluded on a price to rent basis, in September 2015, Perth houses prices were 47 per cent overvalued. On a price to income metric, it's closer to 49 per cent. One could assume the market has quite a way further to fall.
» Perth house prices down almost 10% – Sky News, 18th December 2015.
» WA deficit blowout of $3.1b revealed in mid-year review – The ABC, 21st December 2015.