Performance Property Advisory believes Sydney property prices have "reached a classic peak" and have issued a "sell" rating according to the Australian Financial Review ('Sydney and Melbourne property 'set for price correction.') The group provides market research and analysis for medium to high income professionals.
According to the Domain, Sydney house prices have surged 52.5 per cent in the past three years. Over the same period, CPI increased just 6.2 per cent meaning house prices outpaced inflation almost 8.5 times.
"The market is just too expensive to keep running. The bulk of potential buyers cannot afford to compete. We will have to see three to four years of wage growth before it returns to normal levels, " commented David McMillan, a principal at Performance Property Advisory.
McMillan was unwilling to speculate on how far prices will fall.
We reported last year ('NAB restricts lending in 34 Sydney bubble suburbs' – Sep 28th) the banks had made decisions to restrict lending to many suburbs "exhibiting characteristics that may indicate future deterioration in credit risk".
According to the Domain Group, Sydney house prices have now recorded their largest quarterly fall on record, plunging 3.1 per cent in the December 2015 quarter.
Economists who study housing bubbles and long term price trends have found, logically, house prices generally do not appreciate faster than household income, or the ability to service the mortgage/debt. In comparing markets, they often compare the change in the ratio of house prices to income and house prices to rents. In a normally functioning market, both should rise at roughly the same rate and should be flat (cancel each other out), like in the case pre-bubble 2001. Once the bubble bursts, these ratios generally return to mean like was the case with the USA subprime housing bubble.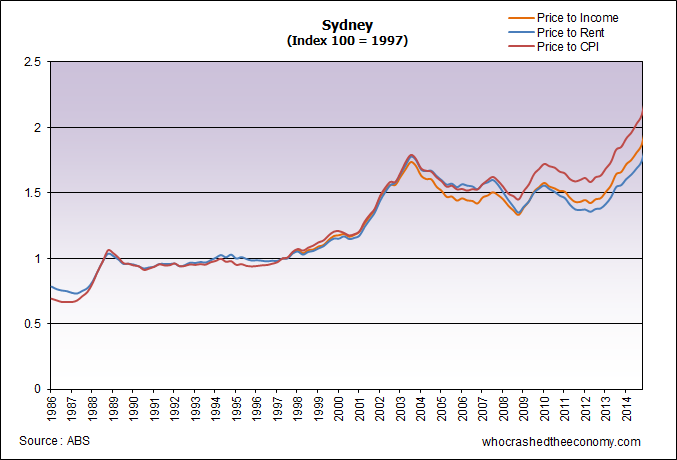 Our data would suggest Sydney house prices are 48.8 per cent overvalued on a price to rent metric and 52.2 per cent overvalued on a price to income metric.
Both rents and incomes have increased faster than inflation during the boom years, and are now showing signs of stress. ('Rental growth slowest in 21 years'), ('Falling wages to upset household debt dynamics') Larger falls could be witnessed if rents and wages were to fall, or if confidence is eroded to the point that the market undershoots. The real house price index (Price to CPI), suggests Sydney could be as much as 57.4 per cent overvalued.
» Sydney and Melbourne property 'set for price correction' – The Australian Financial Review, 19th February 2016.