The concensus among private housing data providers is the Australian residential property market is on the mend. Prices are once again rising, after our "mini" housing correction.
But it is hard to find the drivers of this new found confidence.
The Reserve Bank of Australia has today released the August update of its financial aggregates. Month on month growth in housing finance remains stuck on 0.3 per cent for the third consecutive month, the lowest since records exist. This pulled annual housing credit growth to just 4.8 per cent, also the lowest figure since records started 35 years ago. If there is a buying spree in our housing market, buyers are certainly not borrowing money from the bank for these purchases.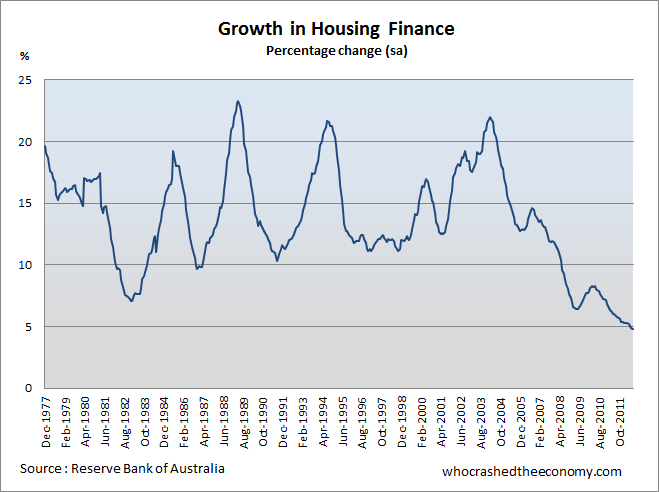 On Wednesday, the Housing Industry Association (HIA) reported the number of new homes being built has fallen to 15 year lows and down 7 per cent for the year. The Australian Bureau of Statistics (ABS) reported new housing construction fell 11.5 per cent over the same period.
Last week, research from Digital Finance Analytics showed almost a fifth of first home buyers are in severe mortgage stress and are at risk of losing their homes in the coming months. Most had loaded up on excessive debt encouraged by the First Home Owner Boost and the high cost of living is now pushing these buyers over the edge.
Martin North, Digital Finance Analytics director told News, "Most people don't realise that the average loan size is twice as big as it was in 2005 so many people are still mortgaged to the hilt,"
"The second driver is that overall costs of living are still going up but especially for middle suburban Australians."
» Financial Aggregates – August 2012 – The Reserve Bank of Australia, 28th September 2012.
» Number of new houses drops to 15-year low – The ABC, 26th September 2012.
» First-home buyers in severe mortgage stress – News Limited, 20th September 2012.
» Secret loan deals and discounts revealed – The Sydney Morning Herald, 23rd September 2012.